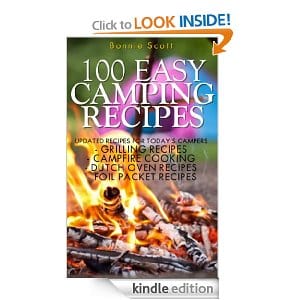 You can get a FREE copy of 100 Easy Camping Recipes today!
We have been thinking of taking a little camping trip this year. It has been several years since our last one, and that is just too long in my opinion!
Preparing quick meals on camping trips is easy if you have the right recipes and ingredients. Just wait until you get any of the 100 recipes in this cookbook cooking over an open flame. Camp cooking has never been easier or tastier. Complete Table of Contents and each recipe is on a separate page for your convenience.
This book features quick, easy to make recipes for breakfast, lunch and dinner:
Grilling recipes
Dutch oven recipes
Foil packet recipes
Campfire cooking
Hot dogs and canned foods are by no means the extent of foods you can prepare easily while camping. If you can cook it at home, you can cook it over a campfire if you bring the needed ingredients and cooking equipment.
Get a head start on any of these recipes by combining the seasonings at home in advance. Store each set in a separate plastic bag, label it and add a copy of the recipe. Cooking out will be a breeze when you are organized and that will leave extra time for fun in the sun.
There are many ways to cook while camping, from grilling to tin foil packets to Dutch ovens. Just pop your meat and veggie in tin foil, cook it over the campfire and you have a quick and delicious meal. You will find many recipes you'll love inside this camp cooking guide. This collection of camping recipes features a wide variety of meals so you can cook out any time of the year.
If you are planning a camping trip too, you'll want to check out this FREE eBook for meal ideas.
*Saving Dollars and Sense Tip: Amazon prices often change without warning, make sure you are getting this for the price you want before checking out.
Thanks Passion for Savings!