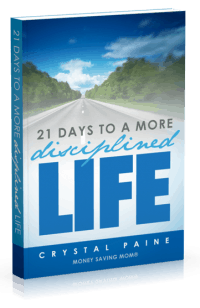 If you have been following me for any length of time you've heard me complain about how disorganized and overwhelmed I get on a regular basis.  The truth is being disciplined does not come easily to me and I am always on the lookout for the perfect gimmick to help me suddenly turn into an organizational guru.
I look at others who appear to have it down and wonder what special gene they received when God was creating them that made being structured and organized a natural part of their being, because obviously I am sorely lacking in that department.
My friend and fellow blogger, Crystal Paine who you may also know as Money Saving Mom, has written a book titled 21 Days To A More Disciplined Life that is a real treasure for those like me who need to find a real way to get things under control in all areas of our lives.
I remember the first time I met Crystal, she was the very vision of perfection to me.  But once I had the opportunity to speak with her and get to know her on a more human level I realized that what I saw was a person who had learned through trial and error how to live a disciplined life.  She was living proof that it could indeed be done and I decided from that day that I would listen to any advice she gave.
So when I was asked if I would like to read her soon to be released book 21 Days To A More Disciplined Life I didn't even hesitate for a second.
This book isn't about gimmicks, it is a life changing book.  It teaches you the skills to turn you messy life into a more disciplined one by showing you how to accomplish big projects in bite size portions.
For the next three days you can get your own copy of the book for only $.99!
After this special promotional period the price will bump up to $4.99, so if this is something you'd like don't wait to grab a copy today while you can get it for such an amazing price.
Not in the position to purchase a copy right now, no worries because I am also giving away FIVE copies of 21 Days To A More Disciplined Life!
Here's how to enter:
Leave me a comment telling me why you would like to win.
This giveaway is open to all legal residents of the US age 18 and older and will end on October 23rd.
**Although the product for this review & giveaway was supplied to me free of charge, all opinions expressed are solely my own.