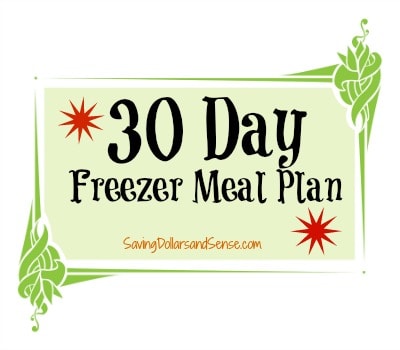 My 30 Day Freezer Meal Menu Plan includes the following meals.  I plan to do my best to get everything on the list accomplished, however this is my first time doing something this large so I might have taken on more than is humanly possible to accomplish in just two days?
Now that I have my menu and grocery list in hand I am headed out to do some shopping so that I can have everything ready to go.  When I get home this evening I will get everything cleaned up in the kitchen and ready to go to start bright and early tomorrow morning.
I'll share my progress throughout the day on Facebook here if you'd like to follow along.
Check back here tomorrow evening and I'll share some of the recipes I'm planning to follow for this challenge.
Dinners
2 Beef Barley Stew
2 Marinated Chicken Breast
4 Chicken Broccoli Rice Casserole
2 Swiss Steak
1 Broccoli Cheese Soup
1 Honey Lime Chicken
2 Taco Soup
2 Chicken Cacciatore
2 Mini Meatloaves
2 Beef Enchilada Casserole
Already have in the freezer:
4 Hamburgers
2 Pork Chops
2 Hot Dogs
2 Steak Dinners
Lunches
16 Burritos
20 Pizza Pockets
Breakfasts
Cinnamon Rolls
Banana Bread
20 Breakfast Burritos