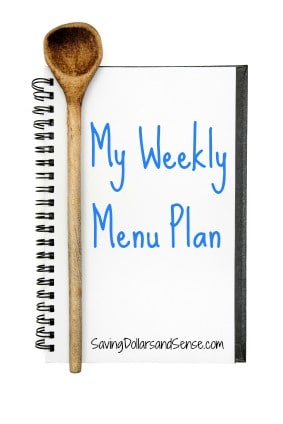 Although it is still pretty hot out here in Michigan today, I can't help but think of fall and everything that goes along with it including fall time meals. My crockpot has sat ignored in the corner for far too long.
Are you looking forward to more soups, stews, and other comfort foods for fall?
Now on to this weeks menu plan.
Breakfast and lunch is pretty much the same around my house which is why that part of the menu never changes.
Breakfasts – consists of oatmeal, cold cereal, fruit smoothies, toast & poached eggs.
Lunches – consists of soups, peanut butter or tuna sandwiches, and dinner leftovers.
Dinners – I will try to include lots of veggies this week.
~ Monday ~
Breakfast Burritoes
~ Tuesday ~
Pork Chops, Roasted Rosemary Potatoes and Glazed Carrots
~ Wednesday ~
Spaghetti with Italian Sausage
~ Thursday ~
Grilled Chicken Breast, Pasta Salad, and Cole Slaw
~ Friday ~
Sliders and Spinach Salad
~ Saturday ~
Pot Roast, Potatoes, and carrots
~ Sunday ~
Usually we have a very late lunch and just find something small for dinner. Either way I don't plan because I like to be flexible for anything that pops up.
If you are new to Menu Planning, you'll want to check out this post which includes lots of tips and a printable menu planner to make things easier.