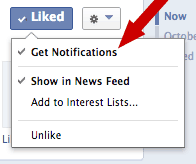 WOW did you see the latest update to Facebook?
After I shared my last post about my frustrations with Facebook I thought I was witnessing the slow death of Facebook. I mean if you can't see what you want to see then why would anyone continue using it?
Then I heard about the latest update and I thought maybe Facebook is finally beginning to listen to those of us who are fed up with not seeing what we like.
This one will be especially helpful if you want to keep up with me during the holidays when I'll be sharing some great deals!
Now you can go to your favorite pages and let Facebook know that you want to receive notifications when there's a new update!
Just hover your mouse over the "Liked" button on the page and then click on "Get Notifications" so that you can make sure to see when something new has been posted!
I hope this will help us stay more connected on Facebook, but I still encourage you to check out the other ways to stay connected with Saving Dollars and Sense in this post here.