Enter to win four passes to take your family to see an advanced screening of the super cute new movie ABOMINABLE!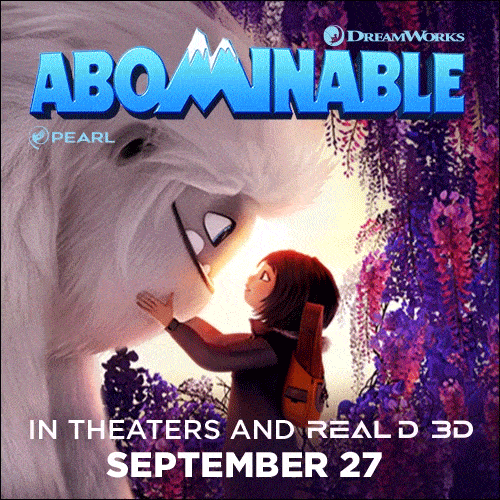 *This giveaway has ended and all winners have been notified by email. Click here to check out our latest giveaway going on NOW!
Here are the winners for the Abominable Family four packs:
1. Jennifer K.
2. Cate D.
3. Shannon J.
4. Tami M.
5. Susanna H.
6. Cindy H.
7. Brenda J.
8. Kelly J.
9. Brandy W.
10. Adrienne M.
This giveaway is for a local event, please only enter if you can attend the screening in Troy, Michigan.
Enter for your chance to win a Family four-pack to the advance screening of ABOMINABLE on Saturday, September 21 at 10:00AM at the MJR Grand Digital Cinema Troy.
There will be a total of TEN Winners, so you have a great chance of being one of them!
HOW TO WIN A FAMILY FOUR PACK
Simply leave a comment below to be entered to win! I will randomly choose 10 people from the comments to each win a four pack of passes to the advanced screening on September 21st!
Giveaway ends on September 16th.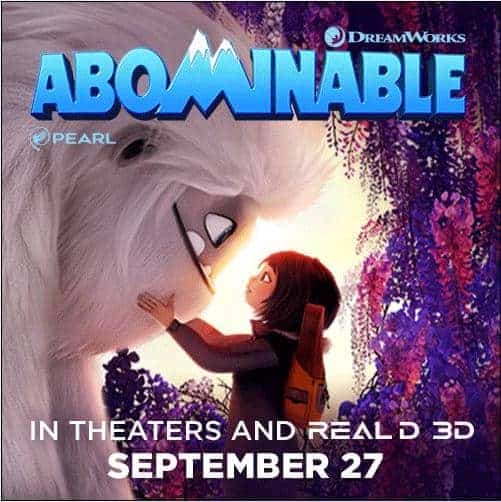 ABOMINABLE: DreamWorks Animation and Pearl Studio's co-production Abominable takes audiences on an epic 2,000-mile adventure from the streets of Shanghai to the breathtaking Himalayan snowscapes.
When teenage Yi encounters a young Yeti on the roof of her apartment building in Shanghai, she and her mischievous friends, Jin and Peng, name him "Everest" and embark on an epic quest to reunite the magical creature with his family at the highest point on Earth.
But the trio of friends will have to stay one-step ahead of Burnish, a wealthy man intent on capturing a Yeti, and zoologist Dr. Zara to help Everest get home.
Directed by Jill Culton (Open Season, Monsters, Inc., Toy Story 2) and produced by Suzanne Buirgy (Kung Fu Panda 2, Home), Abominable is executive produced by Tim Johnson (Over the Hedge, Home, ANTZ) and is co-directed by Todd Wilderman (Trolls, The Croods).
This film is rated PG.
NO PURCHASE NECESSARY.
ABOMINABLE is in theaters on Friday, September 27th