For those of you who don't know I am a HUGE fan of Aldi stores!
They have always been my go to spot for baking products. Plus the prices on produce are unbeatable! I recently had the opportunity to tour an Aldi Store and hear more about how they are able to offer such great prices as well as why it is important to them to do so.
During my tour I also found out that you can find Aldi on Facebook which is the best way to get any questions you might have answered.
When I don't have time to deal with coupons, I know that I can run to Aldi and get great coupons prices without the coupons. Aldi not only saves me money, but they save me time too!
Plus because they only carry the things they know we need, I can get in and out of the store in less than 30 minutes! That is unheard of for me, just ask my family 😉
Smart shoppers have found that switching from national brands to ALDI exclusive brands can save them up to 50 percent on more than 1,400 of the most commonly purchased grocery items. This is based on the price comparisons at several leading grocery stores.
It's all the little things they do that make Aldi awesome, and most of those things we never even notice.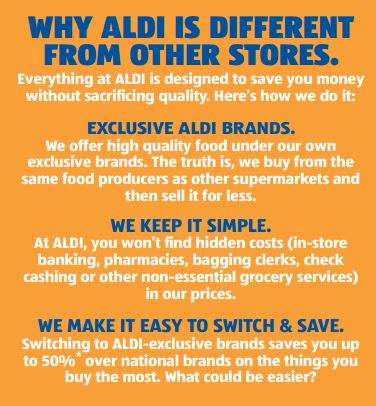 Aldi's Double Guarantee
If for any reason a customer is not 100 percent satisfied with any ALDI food product, ALDI will gladly replace the product AND refund the purchase price.
An Aldi Secret
Aldi cashiers are super fast! And they sit the entire time. I've often wondered how they can be SO fast sitting when other cashiers are ridiculously S L O W?
Want to know their secret?
Every item the cashier has to scan has several barcodes on them. This means the cashier doesn't have to waste time looking for a barcode, they can just slide it over the scanner and be sure that it will pick up one of the barcodes.
New to Aldi? Check out these tips before you go.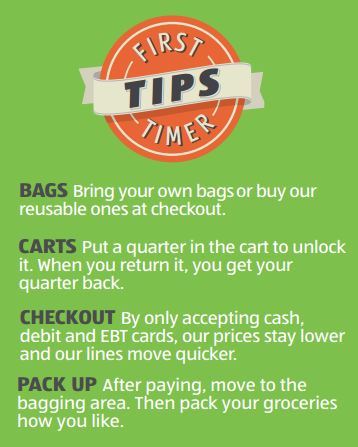 These are some of the ways that Aldi is able to keep their costs down and pass those savings on to you!
Looking for an easy and inexpensive way to host a summer fun party? Aldi has you covered with this list of 10 Summer Parties for under $20.
Having a carefree and affordable season has never been easier with these simple tips and recipes:
Beat the Heat: ALDI carries a selection of ice cream and frozen treats, perfect for satisfying your sweet tooth on hot summer days. ALDIstyle tip: Build your own parfait by layering brownie, ice cream and crumbled chocolate in a glass. Finish it off with your favorite ice cream toppings.
Summer Essentials: Now you can be party perfect or summer ready at any time by stocking your pantry, fridge and freezer with a variety of essentials available at ALDI. ALDIstyle tip: Keep a variety of burger patties – from beef to salmon to turkey – in your freezer to keep your grill busy all season.
Cheers to Summer: What better way to celebrate summer than with a variety of seasonal beverages – for both kids and adults – available exclusively at ALDI. ALDIstyle tip: Brighten up your ice cubes for fun summer drinks by freezing anything from Maraschino cherries to fresh berries in ice cube trays.
Entertain with Ease: ALDI carries everything you need for easy summer entertaining, from food and drinks to outdoor furniture and grills. ALDIstyle tip: Take advantage of pre-made items in the store like prepared dips. Create mini crudités by filling glasses with a dollop of ranch dip and add carrots, celery and cherry tomatoes on a stick for a quick and easy appetize.
Summer Escape: Get out of the house and enjoy the warmer weather with ALDI products, whether it's a family camping adventure or a quick picnic in the park. ALDIstyle tip: Add a twist to your s'mores this summer with out-of-the-box ingredients such as hazelnut spread, crushed cookies or sprinkles.
I am giving two lucky Saving Dollars and Sense readers the opportunity to win a $50 Aldi Gift Certificate!
Here's how to enter:
Leave me a comment telling me why you LOVE Aldi too.
This giveaway is open to all legal residents of the US age 18 and older and will end on July 13th.
**Although the product for this giveaway was supplied to me free of charge from Aldi, all opinions expressed are solely mine.