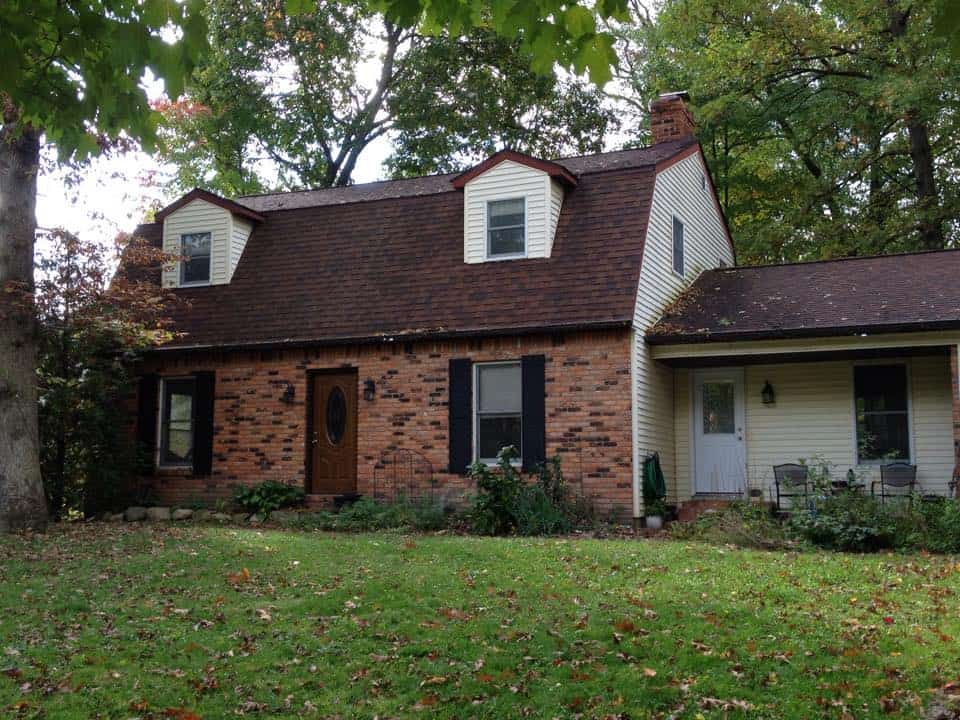 Several years ago, after a long time saving and pinching our pennies we were finally able to buy our dream home.
Now let me clarify upfront that our dream home is probably not at all what most people would consider a dream home. There was no flooring, the plumbing did not work. No washer or dryer hookup. The boiler did not work. The entire inside needed major repairs.
The house had been sitting for over two years when we bought it. We joked that the only reason we were able to buy it was that everyone else that walked through the house was scared away by what they faced inside.
We have basically had to replace every single thing in this house to make it livable. We slept in the basement for months while we worked on the bathrooms and bedrooms before we were officially able to move in.
My husband and I eagerly took on the huge remodel project that is our home.
One thing we never really paid much attention to was the outside of the house. I think the main reason was that in comparison to the inside of the house, the outside looked amazing!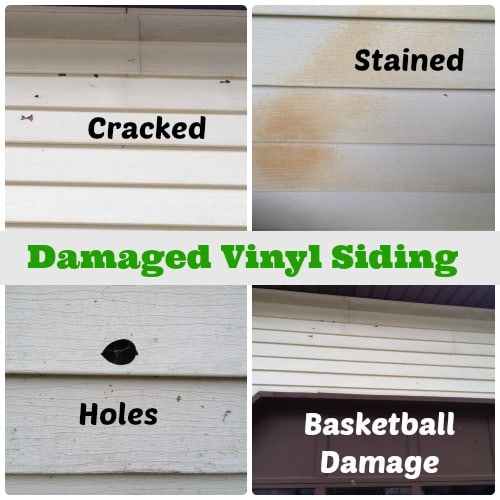 But now that we are over 2/3 of the way finished with the inside, we are noticing some of the work we will need to address on the outside of our home, like the siding for example.
We have some areas of our siding where it is cracked and even missing chunks. I blame this on the harsh weather we seem to have all winter long in this area that we affectionately call the snow belt.
I also have noticed in one area, that the previous owners must have gotten a bit carried away with a painting project that left some overspray on the siding, not to mention there is a bit of staining as well.
Buying a bank-owned home has been quite an experience and so far well worth it. We saved over $90,000 by buying our home and doing the work to get it up to par.
Our outside projects are going to be much more costly than anything we have done inside the home, so I want to be sure I am making the right choices when it comes to how we end up dealing with updating the siding.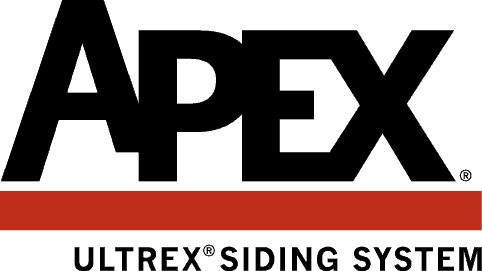 My husband and I heard about a new siding product called Apex Ultrex Siding System, in fact, it is so new that there are only two locations in our area that offer it.
Click here to find a location near you.
We made an appointment to meet with someone to discuss what makes this new product superior to the other options.
I will say right up front that the cost is definitely more than traditional siding, BUT this product is made so well that you should never have to replace or repair it.
So while you will pay a little more upfront, you'll actually save in the long run.
They offer several choices such as wood grain or smooth finish and 4″ or 7″ widths. Plus, you are able to get this siding in darker colors which were impossible with aluminum and vinyl siding which is always in lighter colors. I really LOVE the Wineberry and Bronze colors!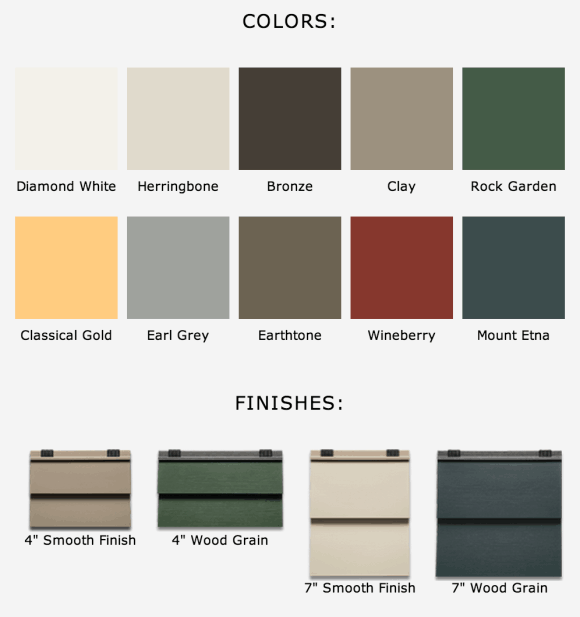 So what makes it superior?
It has a built-in water management system that protects your home and the siding itself from water damage. This means no trapped moisture, no molding, and no rotting wood.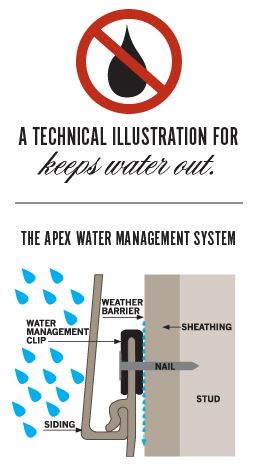 An extremely low expansion/contraction rate keeps it from gaping.
It withstands extreme temperatures which are so important to us because we live in Michigan where we experience all the season in the most extreme ways.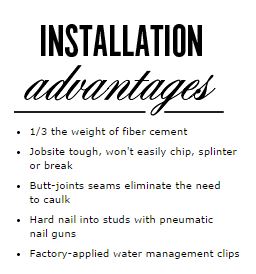 High resistance to impact and resists chipping, breaking or splintering.
No painting or caulking necessary since it is virtually seamless.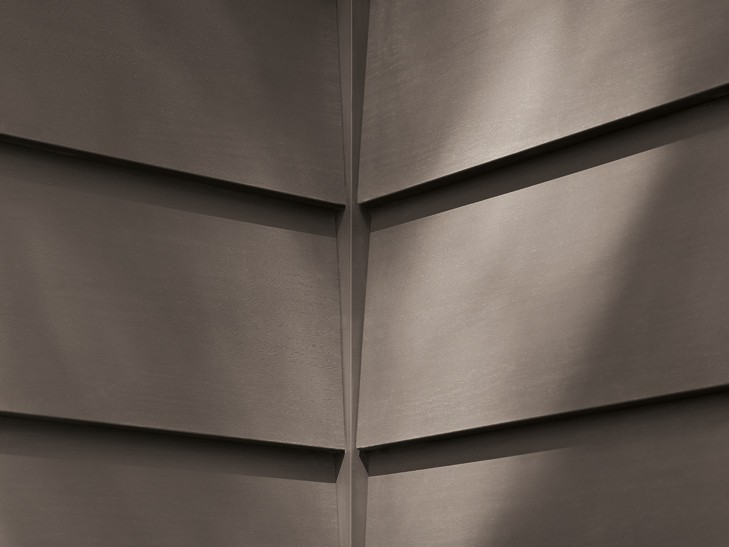 It comes with an APEX Warranty that includes fading! It has built-in UV inhibitors that protect the siding from the sun damage that causes fading on traditional aluminum or vinyl sidings.
I was happy to hear that the two locations in Michigan are offering some pretty great deals right now!
Window Pro in Metro Detroit, is offering some great deals on any purchase, including APEX. Currently they are offering $200 off per square plus 12 Months same as cash. Offer ends 12-14-14!

Performance Fiberglass is offering one-half off installation at this time too.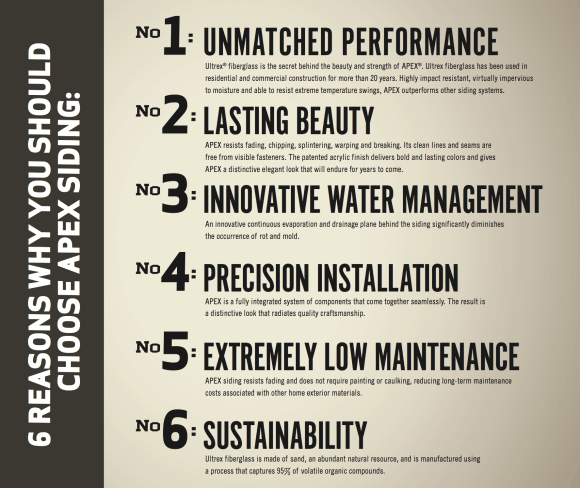 Things to Consider When Choosing Siding:
How well does it manage moisture?
Does it shrink and expand in changing weather?
Does it resist sand and dirt abrasion?
Does it resist UV light and sun fade?
Does it resist the impact of hard and sharp objects (i.e. hail, weed wackers, golf balls)?
How well does the manufacturer stand behind the product?
Does it have the ability to perform over time?
Has the material been proven in the market?
How much maintenance and cost is required to maintain its performance and beauty?
Does it require caulking for performance?
Does it have a built in water management system?
Can it be produced with crisp edges and straight lines?
Can it be cut to exacting standards providing an authentic look?
Does it have exposed nails and screws?
How visible are the seams?
I think you can see after reading that list, why we are seriously considering choosing the Apex Ultrex Siding System when we are ready to replace of current siding.
My husband is a contractor, he does a lot of exterior painting and finishes work. After asking the representative from Performance every question imaginable, he agrees that this is a superior product.
He even hinted that this is the kind of product that could eventually put him out of business because it's truly an install and forget about it kind of thing. No more yearly maintenance necessary, other than maybe spraying off with a garden hose after the winter.
Although I like to save money when and wherever possible, I am a believer that there are just some things that are worth paying more for and a quality siding product is definitely one of the things I would rather pay more for and never have to deal with it again.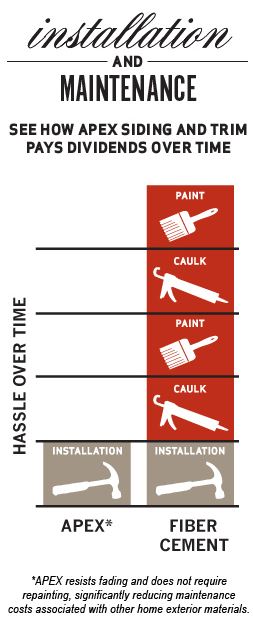 *Although I did receive compensation for writing this post, all opinions expressed are solely my own.