This Barbie Saddle 'N Ride Horse Review is part of the new 2015 Hottest Toys series that I will be sharing here on Saving Dollars and Sense that will highlight each of the hottest toys for the 2015 holiday toy season.

Each year we wait to see which toys will make it onto the Toys R Us Toy List so that we will know which toys your kiddos will be asking for and which toys will be in high demand. For the next couple of weeks, I will choose one new toy from the list to share with you so you can be an informed shopper this year.
If you're tired of explaining to a tearful daughter why owning a pony is just not possible in your small yard or apartment, then the new Barbie Saddle 'N Ride Horse offers the perfect solution.
The toy features clever mechanisms that swing Barbie into her saddle when her hand is connected to the bridle, and the horse rides off into the sunset with surprisingly natural movements. It's a wonderful gift for children who love animals as much as they adore Barbie.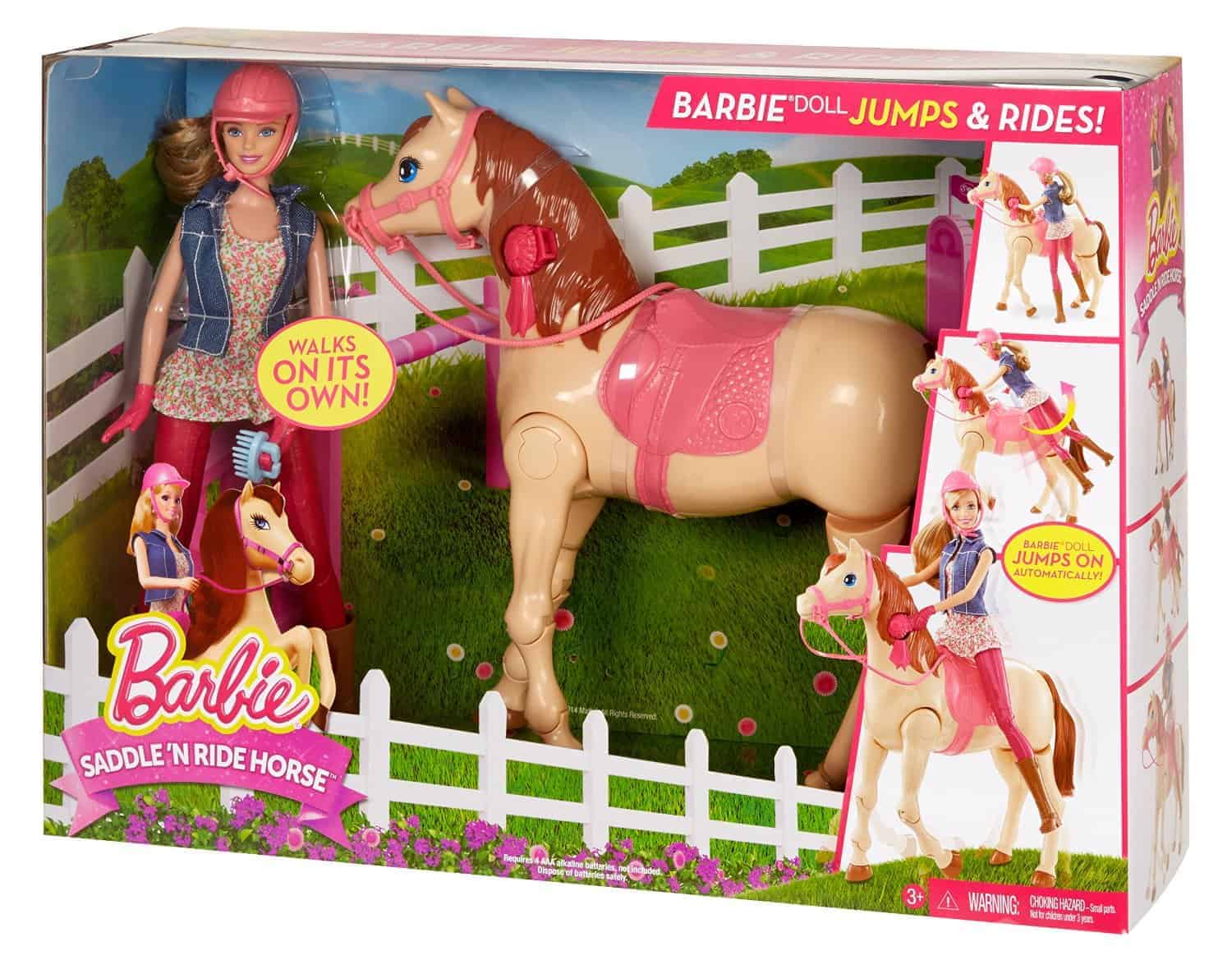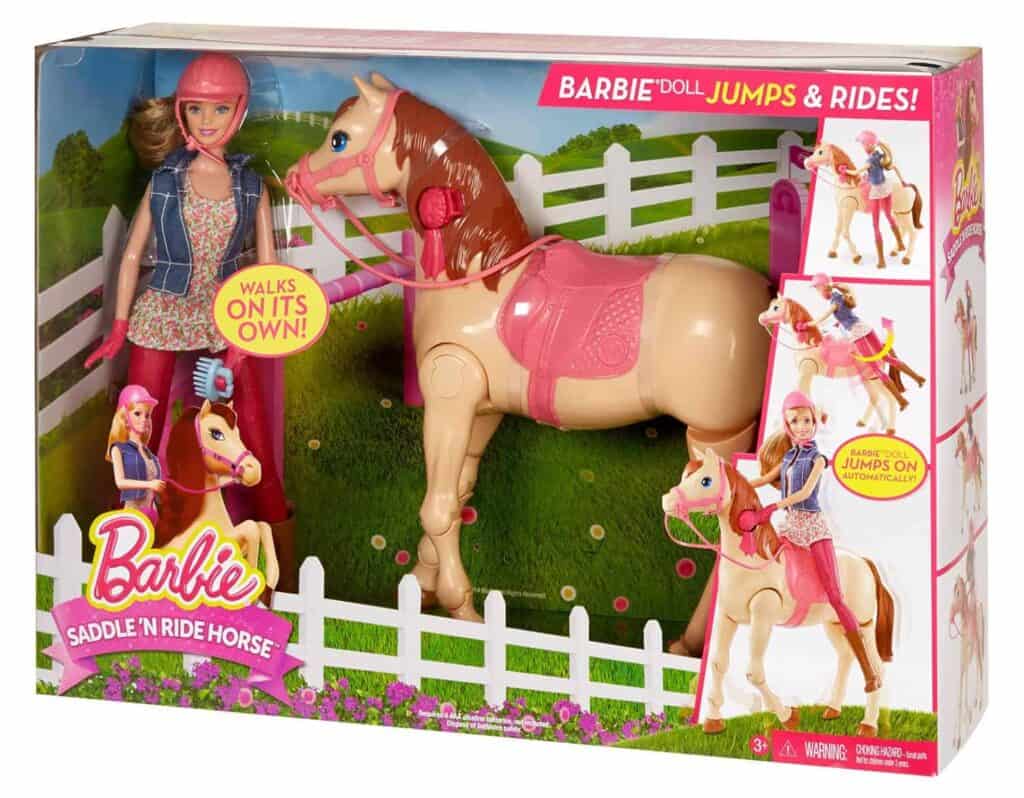 Features of the Barbie Saddle 'N Ride Horse
This delightful toy features the classic fashionable Barbie who's agile enough to mount the horse all on her own! Once she hops on, the little horse gallops, trot and does a number of other neat tricks. A brush is also included in the set so that you can brush the pony's tail when it's time to saddle down and clean up after a day of hard riding.
Is the Barbie Saddle 'N Ride Horse Worth Buying?
Just as generations of little girls have loved previous Barbies, this model is proving very popular with today's doll fans. Parents and grandparents who have given the Barbie Saddle 'N Ride Horse to their special girls report what they loved and did not love about it:
Pros
It encourages hours of imaginative and social play. Children are seen squealing in delight when Barbie mounts her horse and it begins to trot in one smooth motion. After that initial "wow" moment, imagination and storytelling are limitless.
Barbie's signature style is maintained. She's ready for pony club or an exciting riding adventure in her denim jacket, pink riding pants, and pink helmet. Even the pony is pretty in pink bridle, saddle, and reigns. The set complements any doll collection.
It's really easy for children to use. When Barbie's gloved hand is fitted into the bridle, she leaps into the saddle and the horse begins to trot. Release the hand and you can play with Barbie and the horse separately, allowing her to brush her horse or get ready for a date with Ken!
Cons
The doll doesn't stand on her own: she's best seated in the saddle or supported in a child's hand.
There are small parts which can present a choking hazard. Therefore, this toy is not recommended for children under 3 years of age.
Conclusion
The Barbie Saddle 'N Ride Horse combines two of many little girls' loves: horses and Barbie dolls. Your daughter and her friends will be able to create endless stories and adventures as Barbie rides into the sunset on her stylish pony.
It's also a wonderful way for little girls to live out their dreams of owning their very own pony and develop imaginative and social skills along the way.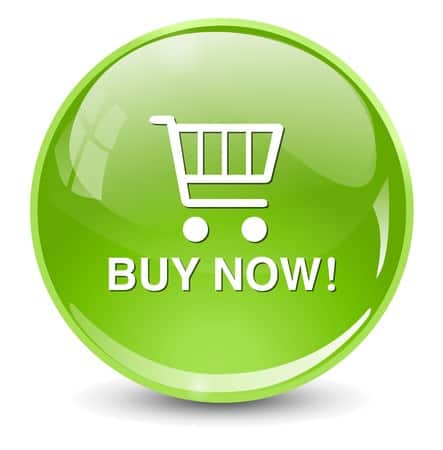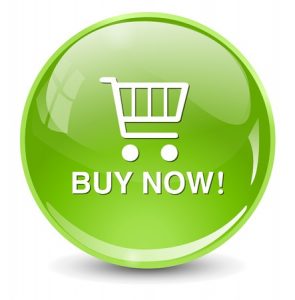 Read all of the 2015 Hottest Holiday Toy Reviews to learn which toys are the right choice for you.