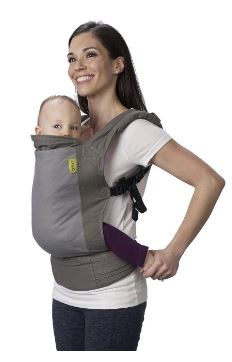 For those of you who might have missed the news, our first grandson Liam James was born a couple days ago!!
In honor of our growing family, I want to spend the next couple weeks highlighting some of the very best baby products available.
Babywearing has become quite popular these days.
Moms like to keep their little ones close, and it frees their hands to do household chores, cook or shop. It is important to have a carrier that is safe and comfortable for your baby.
The Boba 4G Carrier is one baby carrier that will ensure both of those.
The Boba 4G Carrier is perfect for infants as little as 7 pounds and will work for toddlers up to 45 pounds. The large weight range makes it the only baby carrier you will need to buy to keep your baby close.
Made with 100% cotton that is free from any harmful dyes or fabrics, this carrier shouldn't irritate your baby's sensitive skin.
You have carrying options with the Boba 4G Carrier.
For smaller babies up to 25 pounds, you can front carry them against your chest to keep them close and console them.
As they get older, you can switch to a back carry to better distribute their weight on your body and let them see more of the world.
The integrated infant insert for the Boba 4G Carrier can be placed in two positions depending on your baby's size. This ensures they are sitting comfortably and not in a way that could be damaging to their hips and legs.
A removable sleeping hood provides your baby with a dark, quiet place to snooze, which she will be doing a lot of when first born.
Foot straps are also included to let your little one rest their legs and feet with ease. Side straps can quickly pull your baby closer for breastfeeding or to simply create a more snug, protected wear.
For the adult, the Boba 4G Carrier comes with a number of customizations for comfortable fit. Adjustable shoulder and waist straps fit a number of body sizes. The shoulder straps can go from 20-40 inches, while the waist belt fits 25-58 inches.
Mothers and fathers can both wear their baby comfortably!
Along with a variety of adjustments available, the Boba 4G Carrier comes in a number of fun as well as neutral styles including Dusk, Kangaroo, Moab, Peak, Slate, Soho, Tweet, and Wildflower.
Additional features make the Boba 4G Carrier the most convenient baby carrier. Purse straps are integrated into the shoulder straps so you aren't constantly dropping your bag. The carrier features well-positioned pockets for money or keys needed for a quick walk or trip to the store.