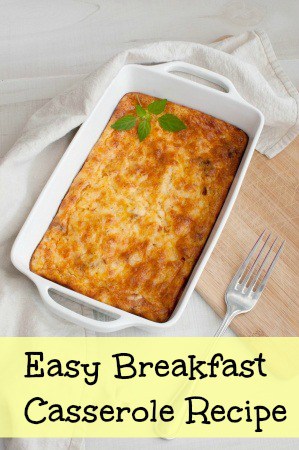 A couple of years ago I came across a very easy recipe for an Easy Christmas Breakfast Recipe.
I been making this very easy Christmas Brunch Casserole for the last few years for my family, and it has been a huge hit!
I loved it because the last place I want to find myself on Christmas morning is stuck in the kitchen cooking while the rest of the family is in the family room enjoying the morning together.
This is a breakfast that can cook itself in the oven while you're opening gifts.
Christmas Brunch Casserole
Ingredients
1 pound bacon
2 onions, chopped
2 cups fresh sliced mushrooms
1 tablespoon butter
4 cups frozen hash brown potatoes, thawed
1 teaspoon salt
1/4 teaspoon garlic salt
1/2 teaspoon ground black pepper
4 eggs
1 1/2 cups milk
1 pinch dried parsley
1 cup shredded Cheddar cheese
Directions
Place bacon in a large skillet. Cook over medium-high heat until evenly brown. Drain and set aside. Add the mushrooms and onion to the skillet; cook and stir until the onion has softened and turned translucent and the mushrooms are tender, about 5 minutes.
Grease a 9×13-inch casserole dish with the tablespoon of butter. Place potatoes in bottom of prepared dish. Sprinkle with salt, garlic salt, and pepper. Top with crumbled bacon, then add the onions and mushrooms.
In a mixing bowl, beat the eggs with the milk and parsley. Pour the beaten eggs over the casserole and top with grated cheese. Cover and refrigerate overnight.
Preheat oven to 400 degrees F (200 degrees C).
Bake in preheated oven for 1 hour or until set.
I prepare the casserole the night before except for the eggs. Then in the morning, while we are waiting for our coffee to finish brewing (we always make the kids wait until mom & dad have coffee in hand before opening any presents) I quickly scramble and add the eggs.
Another thing I should add is that this is one of those recipes that you can adapt to your family's tastes. I'm planning to switch the bacon in the recipe for ham this year.
Then I pop it into the oven and we proceed to open presents.
The breakfast casserole is just finishing up about the same time we are finishing up with the presents. I love it because I look like a super mom and it's so easy too! Plus it keeps for a couple days, so we can have leftovers.
I also make cinnamon rolls for the kids!
I'd love to hear what you have for breakfast on Christmas morning.