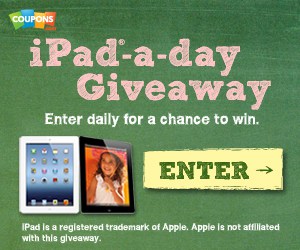 This is your friendly reminder to get your daily entry in for the iPad giveaway!  How awesome would it be if one of SD&S readers won one of them?!!
Just a few more days left to get your votes in for the iPad Giveaway!
Remember you are allowed to vote once each day through August 9th! So go ahead and enter to win an iPad here!
One new iPad will be given away each day, and there will be a total of seven winners! There is a limit of one entry per person per day. The winners are chosen during a daily drawing which is done by an external party (ePrize). Winners will be notified via email.