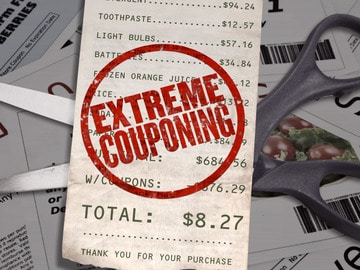 A new season of Extreme Couponing has started again, and I thought it would be the perfect time to share my thoughts on Extreme Couponing as well as some tips & tricks for becoming and Expert Couponer instead!
I shared my thoughts a while back on the new round of greed & hoarding that is sure to be seen in this article "Real Extreme Couponing Is Not So Extreme".
I know that many watch this show who are in situations like I once was, desperate to find a way to make their ever-shrinking budgets stretch.
Unfortunately what you see on the show is not real. A lot of it is staged in a way to get the most sensational savings ever!
The reality is that you can save thousands of dollars a year on your household budget by learning the ins and outs of couponing in a way that is real and legitimate.
I hope that I can offer some real advice and tips to help you save!
Sign up for FREE Couponing Lessons From An Expert That's Not So Extreme!
You can read some of my thoughts on Extreme Couponing below:
You might also like to read a little about my journey to live debt free!
I share how my husband and I found ourselves facing foreclosure and making the decision to fight our way out of debt and stay out!