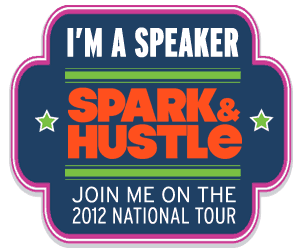 In case you wondered where I've been today, I was busy facing my biggest fear head on!!
(Reposted from earlier in the week)
This was a pretty busy week for me.
I am doing something next week that I never in a million years would have thought I would ever do, let alone willingly if you had asked me just a year ago.
This has been a year of surprises for me and overcoming the box that I used to live in. I've really been challenged to grow and change the most in the last year than I think I have in my entire life.
And I am choosing to take advantage of every minute even if I hate it at the time.
So you're probably already trying to deduce what it is I'll be doing next week. It involves something that has been one of my greatest fears.
I'm speaking to a group in public!
I'm thrilled to be a speaker for the Spark & Hustle 2012 tour, a 20-city series of day-long conferences for current and aspiring small business owners. The events are led by Tory Johnson, a weekly contributor on Good Morning America, contributing editor to SUCCESS magazine and New York Times bestselling author.
So I have been preparing my speech which I've been told is to last 20 minutes. Let me tell you that 20 minutes is almost the same as an eternity, so it's been an interesting week.
Plus a lot went on this week on here on the blog so I thought I would gather up some of the highlights for you in this post.
FREEBIES
BEST DEALS
All kinds of amazing Back to School Deals here!
BEST OF THE WEEK
We've adopted two sweet new kittens and would love your help naming them!
This was a pretty popular post Don't Homeschool Your Child.
Stay tuned because this is going to be quite an exciting week here at Saving Dollars and Sense and I hope you'll stick around to get in on all of the fun! I have a giveaway this week with a prize package that includes a Magic Bullet Blender and a $50 Mastercard Cash card!
Plus find out all about the two blogger field trips I took last week to learn about the Cooking Matters program to teach healthy cooking classes to children & adults that are life-changing. Also, my trip to the Goma Dairy Farm here in Michigan has really opened my eyes to the reality of what dairy farming is all about.