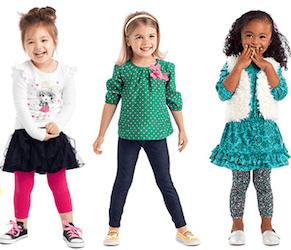 If you missed out on this HOT Freebie last time around, I'm happy to report that it is back again!!!
FabKids is a monthly subscription service which you can CANCEL anytime. Each month, they will suggest an outfit for you which costs $39.95 including shipping. You can SKIP as many months as you want or just CANCEL your membership.
How to get your FREE Outfit  (Make sure you follow the steps EXACTLY in the order below)
JOIN FabKids by clicking on the Get Started Button
Take the "style quiz" and enter your information
Once you have done that, come back here and CLICK ON THIS LINK to pick out your outfit.
Head to checkout and pay $7.95 shipping – not bad for a 3-piece outfit!
Remember, you have to sign-up HERE First, then click the link above.
Thanks Frugal Living and Having Fun!