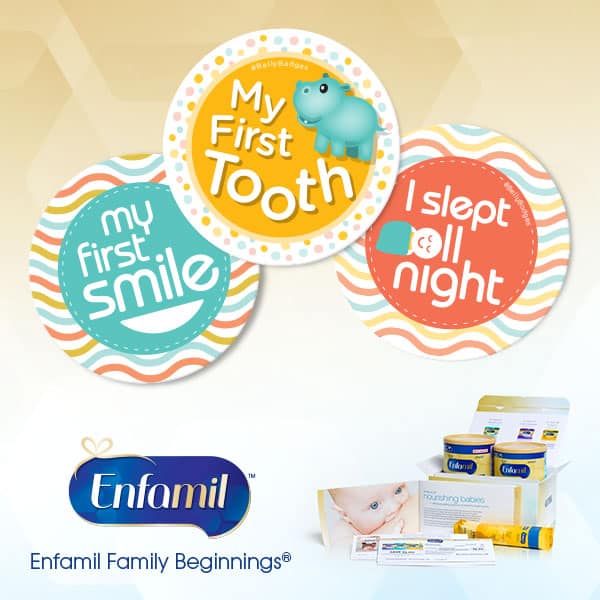 You can request these free baby button stickers to help celebrate all of the different firsts in your little ones life.
These are stickers that you place on your baby's onesie to share special moments and milestones with friends and family.
When you join Enfamil Family Beginnings, you'll be mailed Belly Badges along with $325 in additional freebies.
Request your FREE Baby Button Set along with $325 in additional freebies today!
You might also be interested in the following freebies:
Free Baby Einstein Bundle – Items include 3 sturdy board books: "Who Lives Here?", "Music on the Go" and "What is Black and White?" along with a squishy plush book, "Baby is SO Big", discovery cards with ring, and an informative parent guide.
Free Beast Pads – 10 FREE pairs of Designer Breast Pads ($35 Value) today! 30 great styles to choose from.
Free Belly Band –  2 FREE Belly Button Bands or 1 FREE Belly Button Body ($40 Value) today!
Free Baby Leggings – 5 free baby leggings (a $50 value) with 70+ Styles!
Pampers Rewards – Sign up and earn points for buying baby products that you can redeem for fun free stuff! Earn 100 points as soon as you finishing signing up.
Free Nursing Pillow – Choose your free nursing pillow today or for a limited time you can upgrade to a super soft Minky Nursing Pillow for only $5!
Free Carseat Canopy – Use the promo code ENBABY for a free carseat canopy (a $49.95 value)
Free Baby Sling – Choose one Free baby carrier (a $48 value)
Free Nursing Cover – One free patterned breastfeeding cover (a $35 value)