This pool is great for kids to splash and play in.
The rigid heavy-duty PVC sidewalls permanently attach to the sturdy vinyl bottom. And kids will love the dinosaur characters decorating the front walls of the pool.
Splashing in the sun has never been more fun than with the H2OGO! Dinosaur Fill-n-Fun Pool.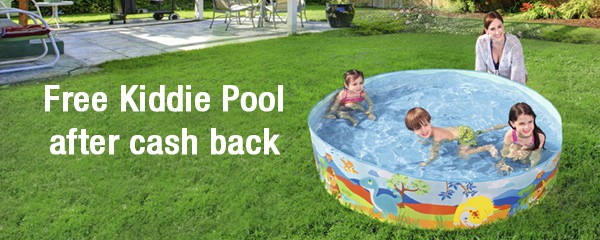 How to get your FREE Kiddie Pool:
Sign up for a FREE TopCashback account. (Be sure to watch for your email confirmation).
Go to the Walmart offer page. (Click 'Get Offer Now').
Spend $11 to buy the Kiddie Pool and checkout.
Within 14 days, your account will be credited with your $11.74 in cashback!
You can then request to transfer the payment to your bank account or Paypal account.
If you are already a member, you could sign up for someone else in your home to be the New Member and still take advantage of this Fandango freebie.
This offer ends June 4th or while supplies last.