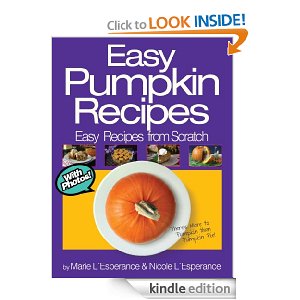 Today you can get a FREE copy of the book Easy Pumpkin Recipes!
In this cookbook, the mother-daughter team present an array of unique recipes featuring pumpkin–the iconic symbol of fall, Thanksgiving, and Halloween.
This fun collection of recipes features:
40 DELICIOUS RECIPES WITH STEP-BY-STEP INSTRUCTIONS: This book shows how to cook dishes for weeknight fall dinners, Thanksgiving celebrations, and simple party food such as Seven Pumpkin Soups, Pumpkin Mushroom Stuffing, Pumpkin-Spiced Caramel Corn, and Pumpkin Soda from Scratch.
25 ROASTED PUMPKIN SEED SEASONINGS: In addition to traditional flavors, you will find unique seasonings such as "Sticky Cinnamon Bun", "Sweet Ninja", "Cheesy Garlic", and "Ichabob's Sweet and Salty". Great for parties!
TRADITIONAL PUMPKIN RECIPES like these favorites: Homemade Pumpkin Pie, Pumpkin Cheesecake with Ginger Crust, Pumpkin Nut Bread, and Meatloaf Baked in a Pumpkin.
STEP-BY-STEP GUIDE to roasting, steaming, and pureeing pumpkin.
PHOTOS OF MOST RECIPES so you know what a dish looks like before you cook.
Cooking Tips and Variations to make it easy.
Grab your copy of Easy Pumpkin Recipes: There's More to Pumpkin than Pumpkin Pie! today and discover that there really is more to pumpkin than pumpkin pie!
Show Less
Download your FREE copy here while it is still FREE!