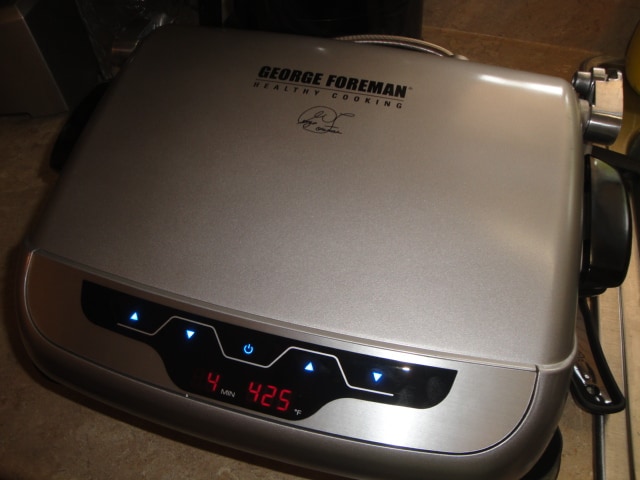 I have a new toy tool in the kitchen these day.
That's right, I'm all about George Foreman Healthy Cooking these days! It couldn't have come at a better time since I have been attempting to change my eating habits to include healthier options.
I have always wanted a George Foreman Grill
ever since I was a girl and first saw the infomercial on TV for them way back when.
I'm not sure why I never got one before today, but I'm glad I didn't because the one I have been sent to review is awesome. Seriously I have no idea how I have gone this without one.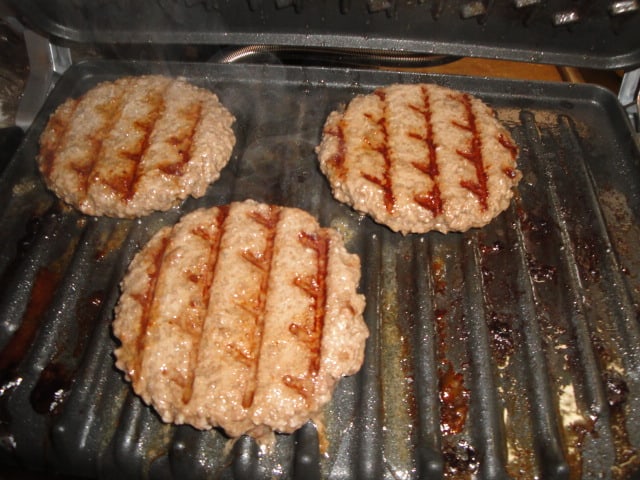 The first thing I tried to grill on it were hamburgers. They cooked perfectly in six minutes!
It would have taken longer than that just for our barbecue grill to heat up.
I was concerned when I first looked at it that I wouldn't be able to cook enough to feed my family of four. But it turns out that was nothing to worry about because I could easily cook five hamburgers at one time!
Key Product Features:
George Tough™ nonstick coating for oil-free cooking
Patented slope for fat to drip away
Drip tray that is dishwasher safe for collecting grease drippings
84 square-inch cooking surface
Precise Digital Time and Temperature Control
Removable dishwasher-safe plates
The George Foreman Evolve Grill
has several different plates which are super easy to attach, detach, and clean! You can interchange grill plates depending on what you are trying to cook.
Here are the different Grill plates available:
Cross-hatch grill plates (2) – Perfect for grilling chicken breasts, fresh fish and more.
Mini-Burger plate – Serve up low-fat turkey sliders in minutes.
Griddle plate – Cook up breakfast, lunch or dinner without adding extra oil or butter for healthier meals.
Cupcake/muffin plate – Whipping up six muffins or cupcakes is a snap with this easy-to-use plate.
Panini plates (2) – No need to butter bread when making panini in the George Foreman Evolve™ Grill.
Deep-dish baking plate – From lasagna to veggie-packed casseroles, the deep-dish bake pan provides another versatile usage for the George Foreman Evolve™ Grill.
Omelet plates (2) – Flipping omelets used to require lots of butter or oil to prevent sticking, however, with the George Tough™ nonstick coating, making omelets is simpler and healthier than ever.
Waffle plate –The waffle plates makes preparing golden, delicious waffles on the grill easy and convenient.
I still have so much more experimenting to do with this thing.
I've grilled hamburgers, hot dogs, and chicken so far. My kids have been using it to make super fast grilled sandwiches. I am looking forward to using the baking plates hopefully sometime soon, I just need to find a recipe I want to try.
Do you or have you ever had a George Foreman Evolve Grill?
I would love to hear about your experience with yours. Did you like it or did it just become another gadget that gets stored away after the novelty wore off?
*Although I was supplied with this George Foreman Grill free of charge from Family Review Network on behalf of George Foreman Cooking, all opinions expressed are solely mine.