Do you know someone that loves to spend time in the kitchen baking up all kinds of yummy deliciousness?
I personally would love to receive any of the following gift ideas for bakers!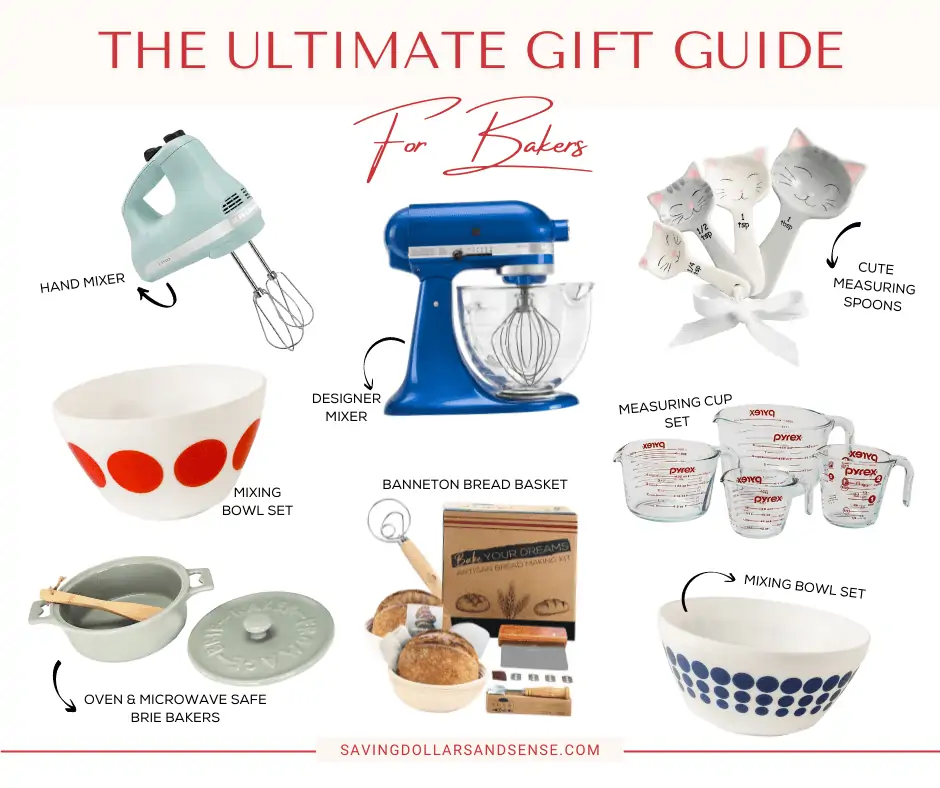 In fact, I am secretly hoping that some of my family members are going to see this blog post today and get some ideas of what to get me this year.
The thing that I love best about this list of the best gifts for bakers is that it includes some really great ideas from all price points. This makes it super easy for you to find something for everyone on your shopping list this holiday season.
These foodie gifts are perfect for them!
Compact, lightweight and great for your everyday mixing needs. This hand mixer features 5 speeds, 2 stainless steel Turbo Beater, accessories, and the power and control to mix up your favorite cookie dough, mash potatoes and so much more.
Mrs. Anderson's Baking Round Cookie Cutters for making homemade cookies, decorative pie crust, mini cakes, gingerbread pieces, and more. Made from tin for easy care; set includes 11 graduated round cutters in a metal storage tin. Easy to use; hand wash in warm, soapy water and dry thoroughly.
Includes 10 pcs different shapes decorating tools made from lightweight plastic. Excellent for form, shape, mark and imprint sugar paste flowers, leaves, figures, and other decorations.
Turn ANY pan into a non-stick surface and save time cleaning up! Use Silpat® instead for any baking recipe (sweet or savory) that calls for parchment paper; Silpat® replaces the need for butter, grease, oils, and sprays. Silpat is the original non-stick baking mat and has stood the test of time with use by the most demanding chefs in the world; Silpat products conform to US regulations on food-grade silicone and are FDA, NSF, and Kosher certified.
Personalized embossing cookie stamp, embossing rolling pin alternative. What a great way to decorate your homemade cookies 🙂 Made from solid beech wood. The stamp measures 2" in diameter, 5" tall including the handle.
No rust, no hand drying, no scrubbing, no mess! IPOW standard-sized silicone cupcake baking cups are made from FDA certified food-grade silicone, NO chemical coating or paint, NO fillers, NO BPA. Time to abandon traditional disposable paper cups and upgrade your kitchen with these reusable silicone cupcake baking cups!
8 pieces with turner, slotted spoon, ladle, spoon, spoon spatula, spooula, spatula, basting brush for cooking/baking/BBQ.
A comprehensive collection of muffin recipes from one of America's most acclaimed food writers. In seventy recipes, Anderson covers every kind of muffin imaginable, from Corn with Country Sausage to Swirled Mocha to Old Vermont Cheddar–Cranberry. With such a wide range of choices for every season, you can bake these comforting treats year-round.
This set includes: (1) each 1 cup, 2 cup, 4 cup, and 8 cup capacity measuring cups. Made of nonporous glass that won't warp, stain, or absorb odors. Glass is preheated oven, microwave, fridge, freezer & dishwasher safe.
Vintage Charm 3-pc Opal Glass Mixing Bowl Set includes one each: 3-cup, 6-cup and 10-cup mixing bowls. Bowls nest for compact storage and their curved interior allows for easy mixing and cleaning. Microwave, freezer, and dishwasher safe.
This Rachael Ray bakeware set features heavy-gauge steel construction with rolled-rim edges designed for easy, everyday use. SET INCLUDES two 10-Inch x 15-Inch Cookie Sheets, two 9-Inch Round Cake Pans, one 9-Inch Square Cake Pan, 2-Piece Loaf Pan, 9-Inch x 13-Inch Covered Rectangular Cake Pan, and a 12-Cup Muffin Pan.
5-Qt.(2,37 L) glass bowl with measurement markings, 10-speed settings, tilt-head design. Includes burnished metal flat beater, burnished metal dough hook, and wire whip, 1-year warranty.
Provides additional kitchen workspace and heavy-duty storage. The removable wood shelf can be used like a butcher's block or for appliances and cookware. An adjustable hanging bar for extra storage includes 4 chromed hooks for dish towels, pots, pans and more. Assembled Dimensions: 14 x 36.25 x 55.25 inches. Easy assembly, no tools required.
Fun and sure-to-please cookie recipes—from all-time classics to contemporary favorites. Here's a massive collection of the best cookies and bars ever with more than 180 sensational recipes that are as easy to make as they are fun to eat. Whether made from scratch or with a Betty Crocker mix, these delectable cookies give you as many options as any cookie lover could want.
Betty Crocker Baking Lovers Delight Dessert Basket. Comes with 1 – 18.4 oz Betty Crockers dessert mix, measuring cups, measuring spoons, 1 rubber spatula all wrapped in a mixing bowl. Each basket is handcrafted with attention to detail, shrink wrapped and tied with a bow for presentation. To include a personalized message with your order, select "GIFT" during check out.
Icing colors add color to the cake batter, buttercream frosting or royal icing without changing the consistency. Includes Kelly green, violet, pink, brown, lemon yellow, black, no-taste red, royal blue, golden yellow, burgundy, teal, and copper. It contains twelve 0.5 ounces (28.3 grams) jars. Certified kosher; made in a facility that also processes tree nuts, egg, and soy. Made in the USA.
This ceramic mason jar measuring spoons set & mason jar measuring cups are stacked 4″ x 6.5″. Measurement include 1 cup, 1/2 cup, 1/3 cup, and 1/4 cup. Measuring spoons includes 1 tablespoon, 1 teaspoon, 1/2 teaspoon, and 1/4 teaspoon measurements. The material is ceramic and is dishwasher safe.
100% Cotton, Made of high-quality material, fashionable and practical with pockets. Ties at the waist and has an adjustable neck strap and is designed to fit most sizes.
Made of thickened laminated wood panel with high glossy finish, waterproof, anti-scratch and easy to clean. Heavy duty powder-coated metal materials, which ensures stability and durability. X-frame design adds more stability and durability of the rack.
There are very few things that are better than freshly baked brie. In addition to the brie, add a few known favorite hors d'oeuvres to complete the ultimate presentation. Presentation is key, after all, and this gorgeous set of grey and white brie bakers are here to help. These bakers are microwave, oven, and dishwasher safe. They also include their own wood spreaders. The top of each lid says, "Brie-Baker-Fromage".
The highly anticipated cookbook from the immensely popular food blog Minimalist Baker, featuring 101 all-new simple, vegan recipes that all require 10 ingredients or less, 1 bowl or 1 pot, or 30 minutes or less to prepare. Minimalist Baker's Everyday Cooking is a totally no-fuss approach to cooking for anyone who loves delicious food that happens to be healthy too.
Any bagel connoisseur knows there's a big difference between a New York-style bagel and a Montreal-style bagel, but a GREAT bagel connoisseur knows WHY Montreal bagels are far superior. Learn all about our golden, fluffy bagels, then watch or bake along as we rustle up a freshly-baked batch together. PRESENTED BY: The Lincoln Apartment Bakery
Baguette bread pan made of carbon steel and is used for baking is heat resistant. The perforation on the surface of the French bread baking pan allows moisture to escape, making the bread crispy and even brows.
Space-constrained bakers need not worry! This folding cookie cooling rack can fit up to 3 dozen cookies in one small bit of counter space. If your countertops aren't the only limited space you're working around we've solved that, too, with a collapsible design that takes about as much space as a cookie sheet that minimizes your storage needs.
This fun silicone gift set includes three 12″ silicone spatulas with bamboo handles, a gift bow and a gift card. They make a wonderful "under $20" fun yet practical gift for anyone who cooks. After all, they're made of tough and durable, non-stick food grade silicone so they're funny yet practical.
Imagine opening your oven and out pops your golden-crusted bread with a soft, airy texture in the middle. Imagine the fantastic feeling of making your own sourdough bread that never sticks while using a perfectly designed set of tools to make a delicious loaf every time for your family and friends. This basket provides support to the dough during proofing. The banneton is made of rattan cane that absorbs moisture during the proofing so that the outside of the dough is less sticky, making a smoother surface for scoring, and a final crispy crust.
Do you like being creative in the kitchen? Would it help you if you had only one instrument to bake all the shapes you could possibly want? Would you enjoy a replacement for the traditional, sticky, hard to scrape baking pan? MiTBA kitchenware's Cake Shapers are coming to your rescue!
This beautiful and personalized wooden spoon is the perfect way to celebrate a special cook or baker! It features a laser etched and engraved design in a lovely beech wood spoon. Show your loved one how much you appreciate their talents with this lovely cooking utensil, which is also gentle on pots and pans!
Absorbent, durable towels made of cotton material reminiscent of traditional flour sacks, woven with a yard-dyed checked pattered for a trendy twist on an old classic. The unique construction results in a low lint finish making this the preferred dish drying towel.
This handcrafted small kitchen appliances motif necklace is a perfect gift for chefs. Cupcake pan is made of pewter and measures 0.75-in by 0.5-in. This cooking utensils charm comes with greeting card with funny quote, and envelope ready to give.
The funny words and prints definitely will catch everybody's eyes and bring some laugh and topics to your cooking. Say goodbye to dull aprons and transform your cooking experience into a hit with this custom apron! With 2 big pockets to ensure that you keep your utensils, recipes, phone, eggs, spice jars, meat thermometer or any other cooking tools handy.
"Not All Superheroes Wear Capes, Some Wear Aprons" Apron
Cooking, baking or grilling while wearing an attitude! This colorful apron is screen printed in the USA and made of poly/cotton twill with fully adjustable straps. Your fun, creative side will be seen while your clothes are being protected from flour, oil, dough, BBQ sauce and other messy kitchen/grill area food. One size fits most. 27 in. L x 34 in. W
Artisan Russian Piping Tips Deluxe Cake Decorating Supplies
Decorate like a PRO with the K&S Artisan Baking Supplies set. You will have everything you need to start decorating your favorite dessert. These rust-proof tips are food-grade safe and ready for your next decorating project.
Shaped like smiling kitty cats and decorated with gray and pink details, these cat measuring spoons immediately brighten up your day when cooking, baking or preparing your favorite drink.
Every cake baking chef needs this mug. They are the friends we have who create art in the kitchen and help turn birthday celebrations from good to great.
This rolling pin necklace is made of high quality stainless steel chain as it does not rust or tarnish easy and is very durable so you can treasure your necklace for a long time, lead-free and nickel-free as well!
Baking Cups are made of 100% Food-grade silicone, BPA free. Eco-friendly, non-toxic, flexible, reusable and durable. These cupcake liners are designed to withstand thousands time' usage, which makes them a total money saver!
From beautifully-baked tart shells to silky peaks of meringue, step into the prestigious role of a French patisserie chef & explore the pure decadence of classic French Tarts.
If you're a bake lover and want to decorating an exquisite cake, Kootek cake turntable sets are a nice choice for you. Cake turntable makes cake decoration a breeze and completely fun to do. Rotates 360 degrees non-slip base cake turntable allows you easily to decorate cakes, ideal for icing, combing, borders, levelling etc.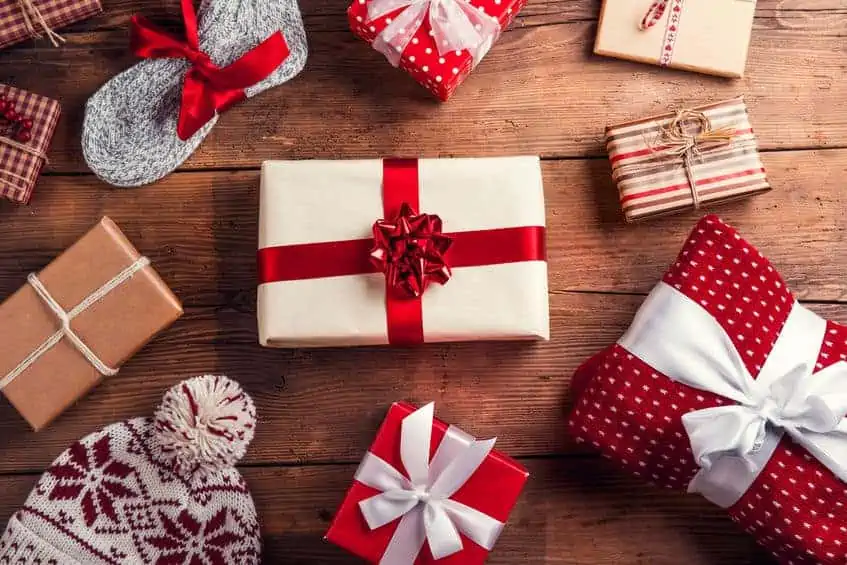 We have lots more Gift Ideas for you too!
Check out the list of the best gift ideas for everyone else on your list too! You could find the perfect gift for everyone and have all of your holiday gift shopping done today.
Check out all of our Saving Dollars and Sense Gift Ideas below:
We also have a fun list of the best Homemade Food Gift Ideas if you'd rather make your own gifts this year.