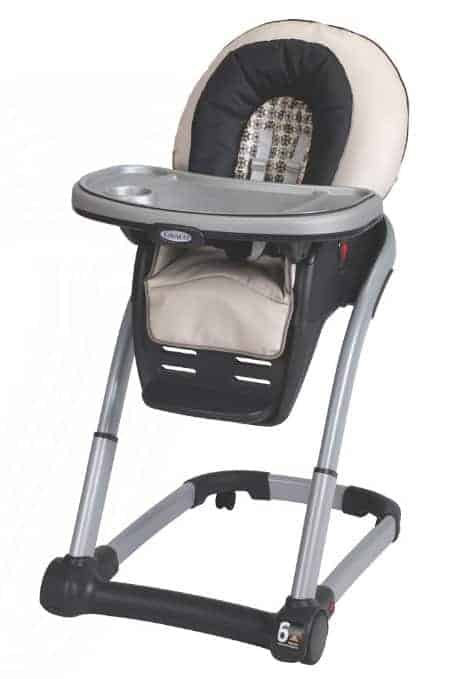 Graco Blossom 4-in-1 Seating System Highchair
With some baby gear being costly, you want options that will be used for a long time to make it worth your money.
The Graco Blossom 4-in-1 Seating System is one such highchair that grows with your child, so it can be the only seat your little one needs from infancy to childhood.
When your baby is very young, place them in the highchair, or infant feeding booster if you want them using a dining chair like the rest of the family. As baby ages, you can change the seat to a toddler booster and even a youth chair.
The highchairs works for babies up to 40 pounds, while the boosters and youth chair support up to 60 pounds.
The toddler booster features a removable back to support young eaters who transition from the highchair to the dining table like the big kid. This highchair system offers three reclining positions, making it easy to position your baby as he grows.
The position can be set singlehandedly, letting you hold your little one as you effortlessly set the chair to his needs. Six adjustable height positions make your child easy for you to reach for feedings and three foot rest positions keep his legs and feet comfortable as he enjoys his meal.
Perhaps the best feature of the Graco Blossom 4-in-1 Seating System is that it can seat two children at once.
The infant booster seat can hold your little one while the youth seat is in use by an older child. Or, the highchair can seat your baby while his older brother or sister uses the toddler booster. The highchair's tray is easily removed with one hand to free your baby from the seat.
The pull-out tray insert keeps messes at bay and can simply be placed in the dishwasher for easy cleanup. The seat's leatherette padding is durable as well as machine washable, making it even easier for you to keep your baby's feeding area clean.
Two front wheels and two back casters make it easy to transport the Graco Blossom 4-in-1 Seating System no matter where in the home you need it. The casters lock in place to ensure safety while your baby eats.
The high chair and infant booster feature a 5-point harness that converts to 3-point harness for the toddler booster.
Find the Graco Blossom 4-in-1 Seating System that matches your home's decor, as it is available in neutral styles like Vance and Fifer or more feminine likes like Nyssa and Winslet.