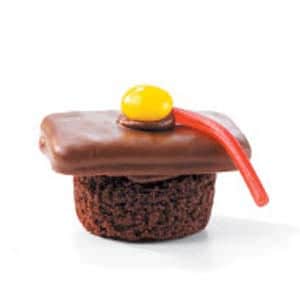 Photo Credit: Taste of Home
My daughter graduated from homeschool last year and one of the things we made for a special treat was graduation cap brownies!
They we delicious and pretty simple to put together.
I got the idea from my friend who made something similar using mini Reese's peanut butter cups and Hershey's chocolate instead of brownies.
I was planning to make them that way too until we decided to have the party outside on a VERY hot day. So instead we went with brownies and they were a hit!
Ingredients:
mini brownie bites (we bought ours already made to save time, although I'm sure it would be less expensive to make your own)
chocolate covered graham cookies
Shoestring licorice
chocolate frosting
chocolate covered M&M's
I used the instructions I found here as a general idea.