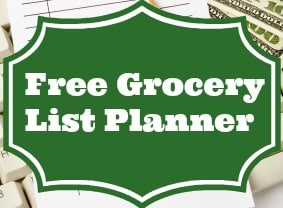 I cannot begin to tell you how glad I am to finally be able to offer you this awesome Grocery List Planner!
It is a great way to create your grocery lists and see all of the coupons and deals available so you can save thousands a year on groceries and household products.
Just click on the store below that you want to shop at and start creating your custom printable list.
If you see a coupon you want, click on it to print it. After finishing your list, print it out and take it shopping with you.
Aldi
CVS
Dollar General
Dollar Tree
Family Dollar
Meijer
Trader Joe's
Walgreens 
Winn Dixie