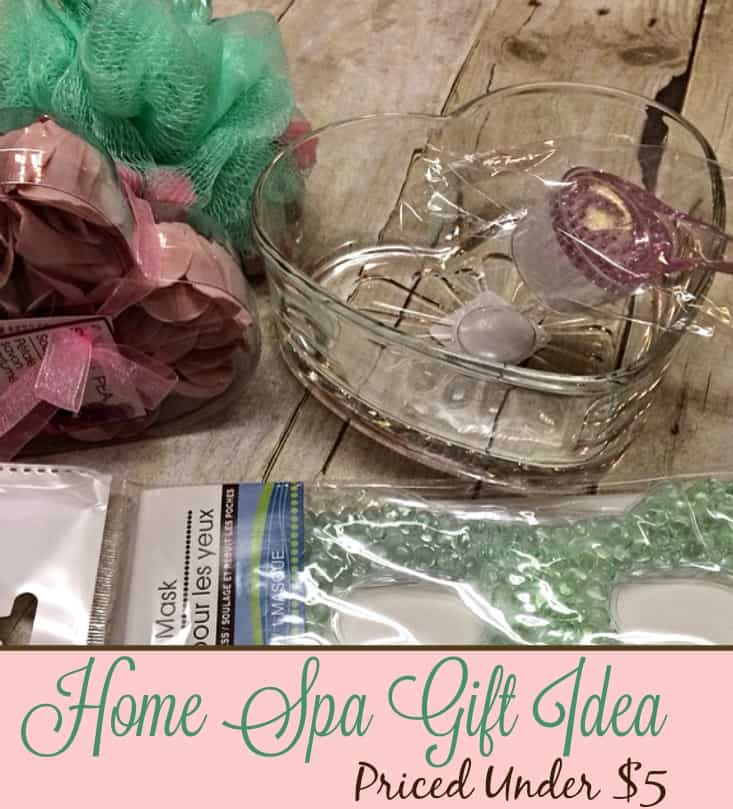 I would love to receive a Home Spa Day Gift and spend a little time being pampered.
I hope that you are finding these Gift Ideas Under $5 helpful in creating a wonderful gift for the one you love without needing to spend a lot to do so.
If you are looking for an inexpensive gift idea, I highly suggest your local Dollar Store for some really great inspiration!
You can easily put together a custom Home Spa Valentine's Day Gift Under $5 using items you've hand-selected for the one you love.
The items in the picture were all found at the Dollar Store for $1 each. I have linked to similar items on Amazon just so that you can see the price comparison.
HOME SPA GIFT SUPPLIES
1 – Heart Shaped Glass Container

1 – Loofah

1 – Gel Eye Mask

1 – Rose Petal Soaps

1 – Facial Scrub Brush
INSTRUCTIONS
Remove packaging and labels from all items and place into the glass container.
Place rose petals in a container still inside of their plastic packaging.
More Valentine's Day Gifts Under $5:
Chocolate Lover's Valentine's Day Gift