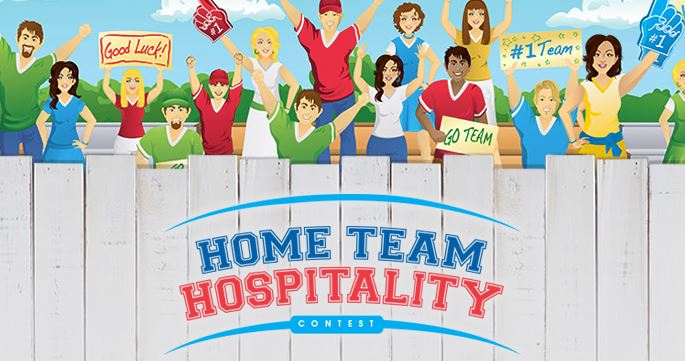 Enter to win a FREE Hotel Stay with Baymont Inn & Suites!
I don't know about you, but I can already see a few times in the recent future where I will be staying at a hotel, so being able to get a FREE night sounds great to me.
Also I wanted to make sure you knew about the contest they are running now through April 27th .
Home Team Hospitality is a contest that recognizes your favorite sports teams in real tangible ways. The last team that won received a desperately needed brand new scoreboard!
Your team, group or club could win $10,000 and 1 Million Wyndham Rewards® points!
In addition to the grand prize, 8 regional finalists will each receive $2,500 and 200,000 Wyndham Rewards points.
Whenever I am looking for a hotel to stay at, I make sure to check all of the Wyndham Hotel Group's hotels, especially Baymont Inn & Suites for a great stay without overspending or sacrificing quality.
They offer FREE Wi-fi and continental breakfast which are both very important to me when looking for a place to stay.
Wyndham Hotel Group is the world's largest and most diverse hotel company, encompassing approximately 7,650 hotels in 70 countries under brands such as Baymont Inn & Suites, Ramada, Days Inn, Super 8, TRYP by Wyndham and more.
As a member of the brand's Wyndham Rewards loyalty program you earn points that can be redeemed for so many extra perks above what a regular guest already receives. 
Wyndham Rewards is the free-to-join loyalty program offered by Baymont Inn & Suites and parent company Wyndham Hotel Group. Points can be earned and redeemed at more than 7,000 hotels in more than 50 countries. 
I am giving away 15,000 Wyndham Rewards points, which is enough for one FREE Nights Stay!
Points are good for a one-night stay at most Baymont Inn & Suites locations, or can be put toward a stay at any of Wyndham Hotel Group's brands
Points will be awarded after the winner signs up for the Wyndham Rewards program at (http://bit.ly/SIGNUPS) and provides their membership number.
Here's how to enter:
Sign up for the Wyndham Rewards program (it's free) at http://bit.ly/SIGNUPS
Leave me a comment telling me where you would go if you won.
This giveaway is open to all legal residents of the US age 18 and older and will end on April 26th.
**Although the product for this giveaway was supplied to me free of charge from Wyndham Hotel Group, all opinions expressed are solely mine.