This Hot Wheels Track Builder Review is part of an ongoing series of the new Hottest Toys for Kids.
We which will highlight some of the best toys for kids for the holiday toy season and share what we love and don't love about them.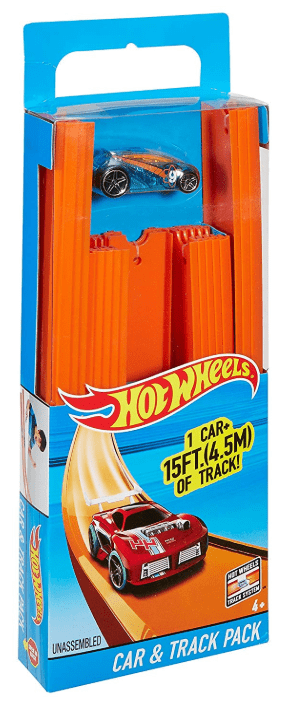 Each year we wait to see which toys will make it onto the Hottest Toys for Kids List so that you'll know which toys your kiddos will be asking for and which toys will be in high demand, like this Hot Wheels Track Builder I want to share with you today.
For the next couple weeks, I will choose some of the best toys for 2018 to share with you so you can be an informed shopper this year. It is my hope that these toy reviews will help you to determine which of the best toys of 2018 are the ones that will be the perfect fit for your little ones.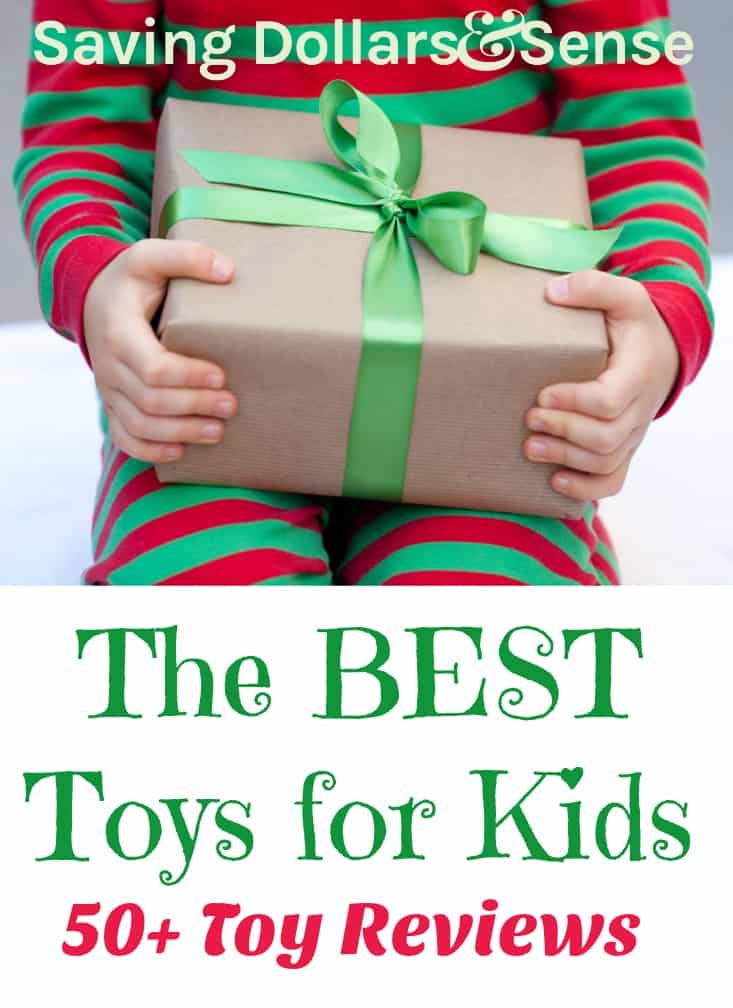 Hot Wheels, Track Builder, Straight Track Includes 15 Feet of Track and a Bonus Car
The Hot Wheels, Track Builder, Straight Track Includes 15 Feet of Track and a Bonus Car is full of fun and just ready to start racing.
This track is a whopping 15 feet long, and comes with an additional bonus car.
The track is customizable and designed for optimal fun and racing. Every child will be entertained with creating the fastest, coolest racetrack that anyone has ever seen.
Hot Wheels is a company that everyone knows and loves, so this track is a great fit for just about anyone.


Hot Wheels Track Builder Features
Recommended Ages = 3 years and older
Total included accessories = 25+ total pieces
Track Connectors:
18 track connectors in a vibrant and exciting hue of blue
9 inch Track Pieces:
An assortment of these 9 inch track pieces come in a vibrant and loud hue of yellow.
12 inch Track Pieces:
An assortment of longer 12 inch track pieces are included also in the yellow hue.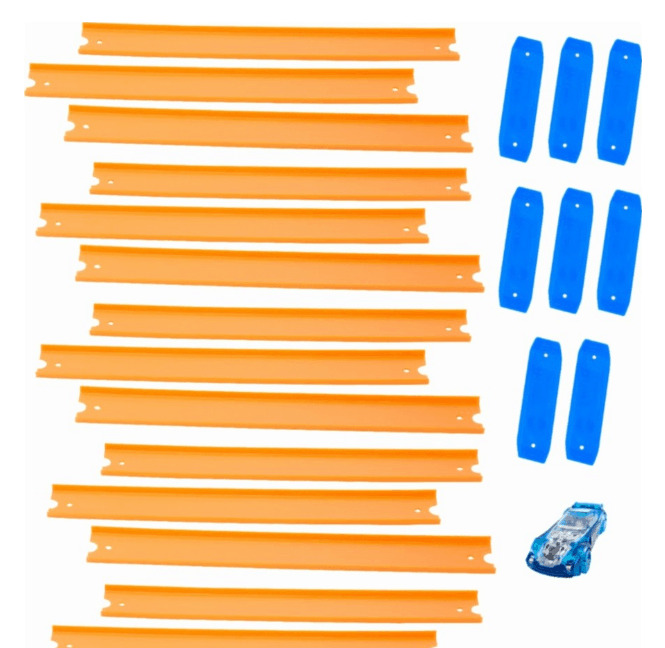 More About Hot Wheels Track Builder
This set is 100% customizable.
The track connectors and track pieces can be put together in a multitude of ways to create the coolest, fastest, and most unique race track for your Hot Wheels cars.
This play set offers great versatility.
Because of it can be customized, that means that you can recreate a brand new track course every single day if you wanted to.
You will never have to build the same track course twice. This makes for an exciting toy that seems like new every single day.
Well known brand.
The Hot Wheels brand has been a widely known and very popular toy brand for decades now, dedicated to producing the highest quality toys and play sets.
You can rest assured that this Race track is of the highest quality, and can provide fun and entertainment for your children for years to come.
Makes a wonderful gift for any child.
An exciting and invigorating toy, this could be a gift for any imaginable occasion.
Affordable.
This play set sets the bar pretty high with its extremely low price.
Coming in at only $10.87, this race track is an incredible deal. It makes it possible to buy multiple sets and arrange them all together to create one massive race track!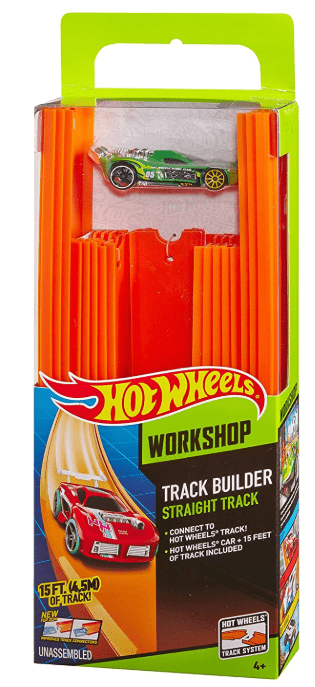 Hot Wheels Track Builder Tips:
May not be safe for younger children. The track itself is a very safe toy because all of the connecting tracks and connectors are far too large to swallow.
But on the other hand, the Hot Wheels cars themselves are much smaller and present a choking hazard for younger children.
There is a bonus Hot Wheels car included with the race track, so please be aware of this risk when purchasing the toy.
Only one car included. This race track is obviously used for racing Hot Wheels cars, however, those cars need to be purchased separately. Only one bonus car is enclosed with this play set.


The 27 Hot Wheels, Track Builder, Straight Track Includes 15 Feet of Track and a Bonus Car Play Set is a wonderful toy suitable for any kind of kid.
A toy of very high quality, and a very affordable price, will make a wonderful gift, and is sure to bring a smile to your child's face.
Watch the Hot Wheels Track Builder Unboxing Video to learn more!