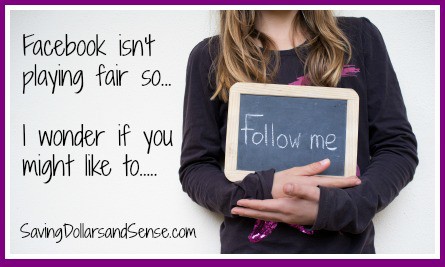 I was late getting on the Facebook bandwagon. But from the first day that I finally bit the bullet and started the Saving Dollars and Sense page I loved it! I love interacting with you all there.
It is neat to chat and share our stories and what's going on in our lives with each other there. But lately, it has been strangely quiet compared to the early days.
At first, I thought maybe everyone was busy, after all it was summer and the last place most of us want to be is sitting in front of the computer. I told myself things would get better when the kiddos all went back to school again, and it has a little. But I miss you!
I remember the days when I could share a post on Facebook and know that anyone who chose to Like the Saving Dollars and Sense page would get to see it right away.
But then Facebook noticed that they could make some extra money from those of us who loved our followers and wanted them to be able to see everything we shared.
And so began the seemingly slow demise of the Saving Dollars and Sense community. Because Facebook is only allowing you to see the thing I share when they want you to, many of you have missed out on great deals and freebies, especially the time-sensitive ones.
As a business page owner Facebook has made it clear that the only way that I can guarantee that more of you get to see what I post is to pay.
And we aren't talking about a couple of dollars here. Facebook is only sharing my posts with about 10% of you. We have almost 10,000 members on the SD&S Facebook page and that means only about 1,000 of you get to see what I share each day.
Ah, but Facebook does have an option for me to make sure more of you see my posts.
For only $50 per post I can guarantee that you all see my post. Because I post several times daily this could end up costing me $500 or more each day! As you can see from the picture above I chose not to promote this post, and only 709 of you saw it. Just imagine all of the other deals you've been missing.
And I simply cannot afford to do that, as much as it kills me to know so many of you are missing out 🙁
In an effort to fight back I created a special Saving Dollars and Sense Facebook Group a while ago, and many of you who wanted to make sure you didn't miss anything joined that group right away.
What makes the group so special is that now Facebook cannot decide for you if you will see my posts. Any time I post something it automatically gets shared in this group. The neat thing is that you will get a little notification whenever a new post is shared.
This is just how groups work. So joining the new group allows you to not only see everything I share, but it alerts you when there's a new deal making it easier for you to make sure you don't miss those hot freebies that go so fast.
*UPDATE: A tip from a member of the group for iPhone users – iPhone users to turn on 'push notifications' for your group. That way when you post, they will see it.
If you are seeing this post on Facebook, it is only because I have chosen to pay to guarantee that you do. I don't want to lose touch with any of you!
Also, you can still find me on other social platforms such as Pinterest, and Twitter. I would love to connect with you there as well.
Even if you do follow and subscribe, remember that sometimes I share things here that are very time-sensitive. Facebook used to be the best option for those kinds of posts, but now I recommend you check the blog directly whenever you can to see if there's anything you need to take immediate action on.
Again, I want to thank you so much for joining me on this journey to change the way we save!