This Little Tikes Count 'n Play Cash Register Review is part of an ongoing series of the new Hottest Toys for Kids.
We which will highlight some of the best toys for kids for the holiday toy season and share what we love and don't love about them.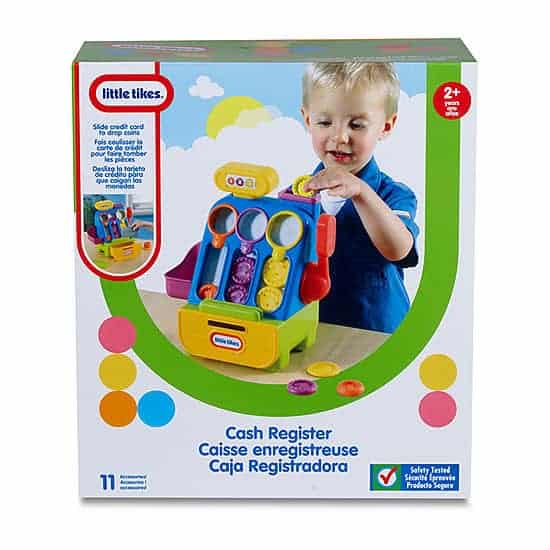 Each year we wait to see which toys will make it onto the Hottest Toys for Kids List so that you'll know which toys your kiddos will be asking for and which toys will be in high demand, like this Little Tikes Count 'n Play Cash Register I want to share with you today.
For the next couple weeks, I will choose some of the best toys for 2018 to share with you so you can be an informed shopper this year. It is my hope that these toy reviews will help you to determine which of the best toys of 2018 are the ones that will be the perfect fit for your little ones.
Little Tikes Count 'n Play Cash Register
Whether for a toddler or a preschooler, the Little Tikes Count 'n Play Cash Register is a toy that will be enjoyed.
It is not only fun to play with, but it is also educational. Kids will be captivated with this toy cash register because of its colorful design. K
ids will match the colors and shapes, and at the same time, this will be an excellent opportunity for the development of their fine motor skills.
Imaginative and creative play will be easier to stimulate with the use of this toy.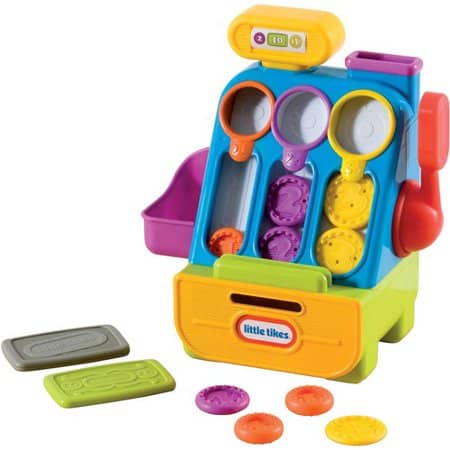 Little Tikes Count 'n Play Cash Register Features:
Package includes one dollar bill, one credit card, two red coins, three blue coins, and four yellow coins
Slot for dropping coins
Slot for swiping credit card
Pull-down handle to open the drawer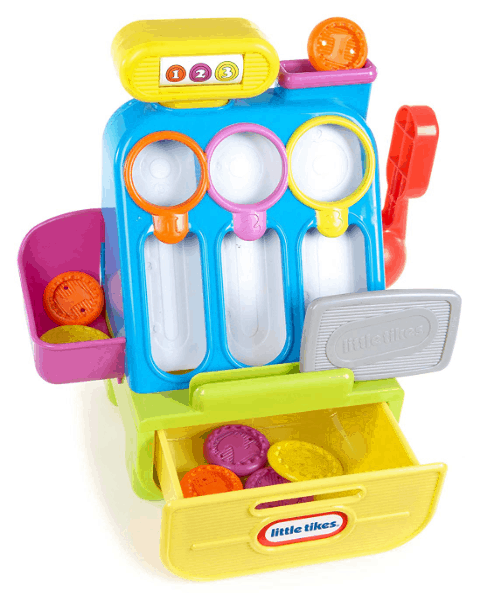 Little Tikes Count 'n Play Cash Register Tips:
Realistic Cash Register: The realistic appearance of this toy is one of the things that will encourage playability. Kids can swipe the credit card on one slot and coins will drop. It comes with a handle, which when pulled, will open up the drawer.
Develops Motor Skills: Another good thing about this toy is that it is not only fun, but can also be instrumental in development of motor skills. It incorporates movable parts that kids will have fun playing.
Provides Mental Stimulation: When looking for kids' toys, it is important to choose those that will not only incorporate an element of fun for playtime, but also one that will help stimulate thinking. In this case, this toy cash register is the perfect choice because it allows kids to match colors, numbers, and shapes.
Kid-safe Materials: The non-toxic parts of the toy is also a big plus. Parents will surely be concerned about the safety of their children when playing, especially when they are left unsupervised. The Little Tikes Count 'n Play Cash Register leaves you with one less thing to be worried about as it is non-toxic, and hence, safe for kids.
Jamming of Coins: Upon taking a look at the reviews shared by other parents, there are many who have experienced jamming of coins. They often get stuck on the slots and can be hard to remove. When the coins get jammed, parents should initiate having it removed from the slot.
Coins can Fit in the Baby's Mouth: This can be a significant safety concern, especially if you are not always around when kids are playing.

The Little Tikes Count 'n Play Cash Register is an entertaining toy that will make playtime more fun.
It has an attractive design and non-toxic finish.
The best thing is that it does not only give kids a toy that is entertaining, but also one that stimulates their thinking and improves their fine motor skills.
Nonetheless, as some parents have expressed, you should keep a watchful eye all the time to be assured that the coins will not be swallowed by kids. Their small size can be a significant drawback as such can be a safety hazard.
Watch the Little Tikes Count 'n Play Cash Register Unboxing Video to learn more!