Photo Credit: More Than A Memory AK
I have always loved the idea of chore charts when used properly.
I believe children should learn that there are some things that they just have to do because they just have to do it. But I also think that bribery rewards can be a very nice motivational tool.  Yes I realize that this will look different at everyone's house because we are all different and we have to do what works best for our unique families.
We've tried a few different ways to use chore charts.  These are the charts we used with both of our kids.  You may also want to check out this post where I shared a site that offers FREE Chore Charts.
I've noticed a really neat idea spreading on Pinterest lately regarding Magnetic Chore Charts that I LOVE!  It makes me long for the days when my kids were little again just so I can make one for them.
The idea is simple.  Create a magnetic board with a line down the middle.  List each chore and what it is worth on a separate chore magnet and place all the chore magnets on the "To Do" side.  Then your child can chose which chore they want to do and know exactly what they will be earning for it.  Once they finish the chore on the magnet they can move it to the "Finished" side.
Photo Credit: Keeping Life Creative
You can buy these already made here, or see this site for a neat way to make your own chore magnets at home!
There is a really great deal today on magnetic business cards that I thought could easily be used for a project like this one!
You can get 50 Custom Magnetic Business cards for only $2!
So here's what I was thinking: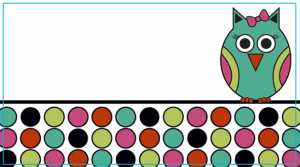 There are lots of card templates to chose from.  Just pick one that you love and you think your child would love too like this one which I think is adorable!
Make sure you leave the wording blank and continue through to the checkout. Use the coupon code MAGNET2 to bring the cost down to just $2.  When your magnetic cards arrive you can use a permanent market to write each one of the chores and its value on the cards.
To save on making the board, just use a piece of blue painter's tape to separate the side of your fridge into a "To Do" and "Finished" side.