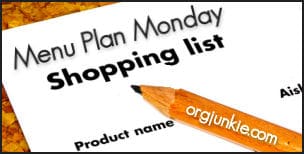 Do you menu plan?
I remember before I started a few years back, I thought the idea of menu planning seemed so rigid. I am the kind of person that likes to be a bit spontaneous so I tend to feel rebellious whenever the idea of a schedule comes along.
But I was desperate back then to get our out of control spending under control so I was willing to try just about anything.
I had read somewhere that menu planning could help me not spend as much in the grocery store so I thought I would give it a try figuring it wouldn't really save me that much and I could say I tried it and move on complaining about how much our bill was each week.
But after sitting at the kitchen table for about 15 minutes I not only had a menu plan, but I had a grocery list too!
Having a plan makes it so much easier to make a grocery list of only the things you need. I took my list to the store that week and saved almost have what I was used to spending!
After that very first week I was hooked. Not only has menu planning helped me keep a $200 a month grocery budget, but knowing what's for dinner each morning and not having the chore of deciding makes life so much less stressful around here especially on our super busy days!
Have you tried menu planning yet?
Here is my menu plan for the week.
Breakfast and lunch is pretty much the same around my house which is why that part of the menu never changes.
Breakfasts – consists of oatmeal, cold cereal, fruit smoothies, toast & poached eggs.
Lunches – consists of soups, peanut butter or tuna sandwiches, and dinner leftovers.
Dinners – I will try to include lots of veggies this week.
~ Monday ~
Spaghetti and Salad
~ Tuesday ~
Hamburgers, Squash, and Cole Slaw
~ Wednesday ~
Leftovers
~ Thursday ~
Fish, Baked Potato, and Broccoli
~ Friday ~
Chicken in Peanut Sauce, Couscous
~ Saturday ~
Stir Fry
~ Sunday ~
Usually we have a very late lunch and just find something small for dinner. Either way I don't plan because I like to be flexible for anything that pops up.