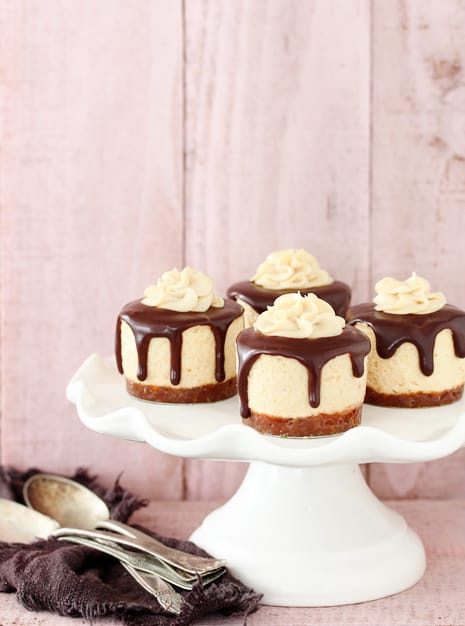 Photo Credit: Bakers Royale
The only problem is that I am working on a healthy new eating plan and I am pretty sure these are not going to work with my new plan. Maybe I'll make them for our final family Christmas party next week? Sweet eaten during a family party don't count right?
Ingredients:
Crust:
9 oz mini size butterfingers (about 24 mini size Butterfingers)
3 oz pretzels
Cheesecake:
¼ cup water
1 tablespoon powdered gelatin
1 1/2 cups heavy cream
8oz cream cheese, softened
¼ cup creamy peanut butter
1/3 cup sugar
Pinch of salt
½ cup Buttercup and Pretzel mixture
Chocolate Pouring Glaze:
2/3 cups dark chocolate
2 tablespoons heavy cream
4 tablespoons powdered sugar, sifted
4-5 tablespoons water, warm
Peanut Butter Cream Cheese Frosting:
¼ cup cream cheese, softened
2 tablespoons peanut butter
5 tablespoons powdered sugar
2-3 tablespoons whole milk
You'll find the complete directions for making these yummy treats here.