This month marked friendship week, and it has me thinking  just what makes a good friend so special?
For me it is someone that you can be your true self around, and they won't run away when you are.
I am not ashamed to admit that I don't have a lot of real life friends, mostly because of my own trust issues. I have a select few besides my husband and kids that I can call friend.
When I call someone a friend it means that I have found them worthy of letting down my guard and being who I really am when no one is looking.
To be perfectly honest, I think we all know how to behave ourselves (at least most of the time) around most people. But when you are close enough to someone that you can let your guard down a little, I think that is pretty special and rare.
Last week I let my guard down a little when I shared that I am dealing with some medical stuff that honestly I was a little worried about.
I shared because I feel like we are friends, and you proved me right.
Can I just say how thankful I am to all the uplifting and encouraging emails, comments, and messages I have received from all of you!
Here's a sample of the comments I received from the Saving Dollars and Sense Facebook Page:
Post
by Saving Dollars and Sense.
Mostly I am filled with gratitude for those of you who said something like "I'm sorry, that stinks. I'll pray for you".
It's kind of odd to say that I have some pretty amazing friends online, but it is so true!
When I was feeling badly about the situation, it was all of you who helped me to see that this is not a death sentence and God is so much bigger! You have no idea how much this really meant to me, in fact I am a little emotional right now as I type these words to you.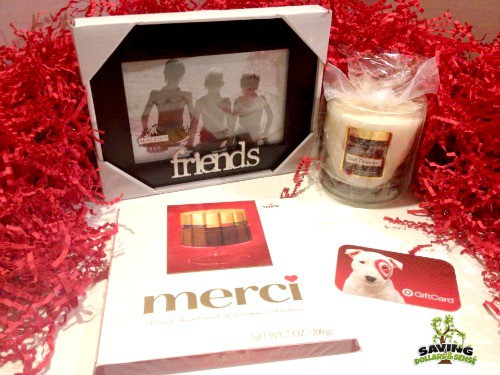 In honor of being such amazing friends to me, I wanted to do something special in return by offering this Friendship Kit Giveaway to one lucky Saving Dollars and Sense friend!
As much as I would love to offer every single one of you this thank you gift from Merci Chocolates, I only have one Friendship Kit available to give away!
The Friendship Kit includes:
1. $25 Target gift card
2. 7 ounce box of merci chocolates
3. A picture frame to display a photo of you and your friends
4. A chocolate scented candle
Here's how to enter:
Leave me a comment telling answering the question "What makes a good friend".
EXTRA Twitter Entry:   Thanks to @sawickis and @mercichocolates for showing that it is always a good time to thank a special friend! #merciFriends Click here to Tweet!
This giveaway is open to all legal residents of the US age 18 and older and will end on August 29th.
**Although the product for this giveaway was supplied to me free of charge from Merci', all opinions expressed are solely mine.