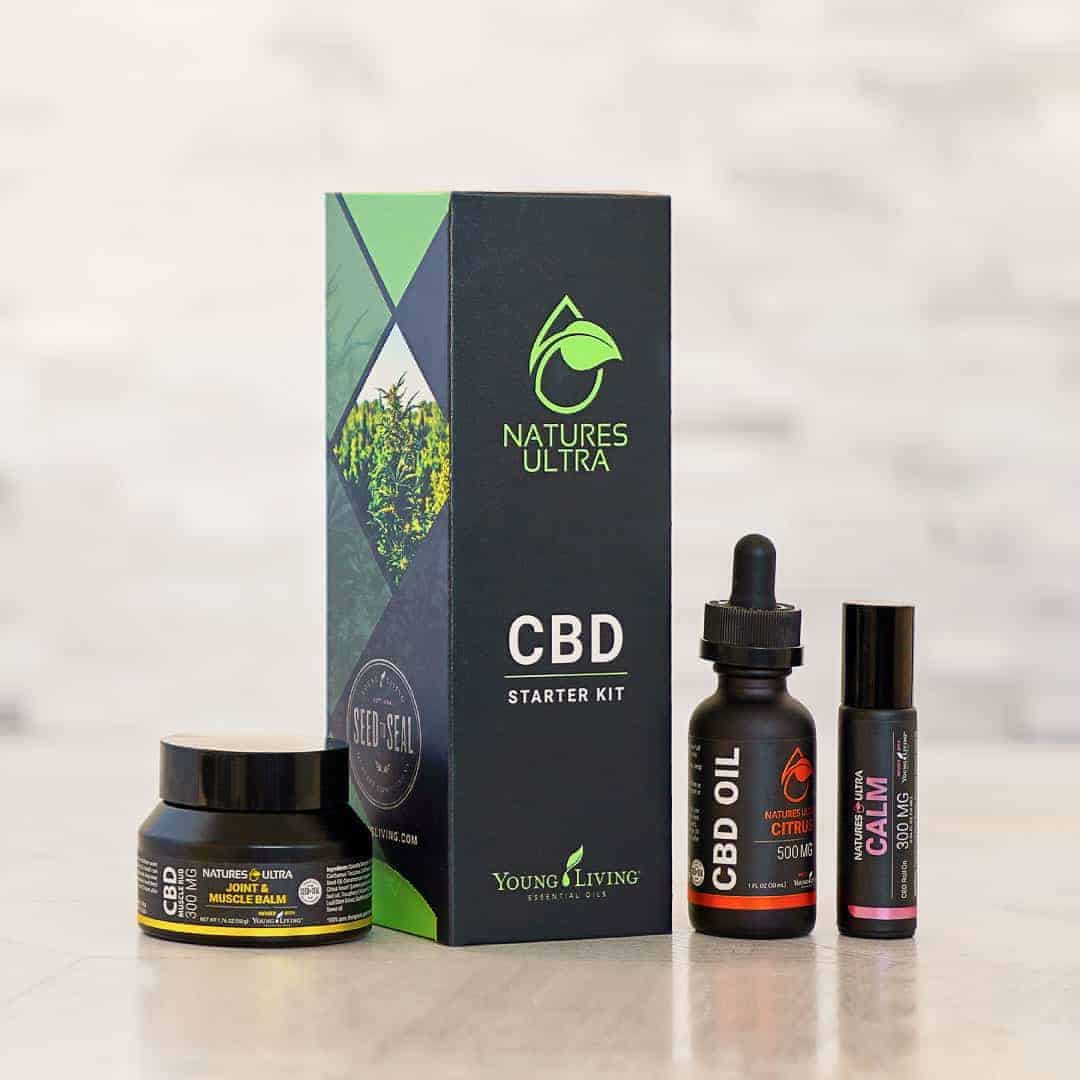 Nature's Ultra is a new addition to the company that I order almost all of my beauty, health and wellness products from. They offer CBD products that are infused with essential oils, to offer a unique experience that you cannot find anywhere else.
I will personally send you $25 back through Paypal, Amazon or a shopping Credit within 30 days of placing your order using my personal link and Member #1580039.

What is CBD?
First and foremost CBD is NOT marijuana. They are both from the same plant, cannabis (hemp), but they are different varieties.
Marijuana is produced when the hemp plant is grown without the male variety present. The resin produced from the small, hairlike appendages (called trichomes) of all female plants is full of THC, which produces the psychoactive effects associated with Marijuana.
CBD (Cannibidiol) is a natural substance from another variety of hemp. It is produced when the hemp plant is grown with both the female and male plant. The resin produced is full of CBD, which does not contain the same heavy psychoactive effects as THC, and has only small amounts of THC.
How to Choose Your CBD
There is certainly a bit of chaos when it comes to the availability of CBD products. There are so many to choose from. I mean, even the local gas stations sell them now!
Obviously quality is an important factor. But it's also important to know the difference between Full Spectrum CBD, Isolate CBD, and SMART Spectrum CBD.
Full Spectrum CBD still has some trace THC in it. So while you won't get the psychogenic effects of straight THC (marijuana), there is still the possibility of exposure to THC.
It is also important to note that hemp is a phytoremediator by nature (phytoremediation is nature's way of using living plants to clean the soil and groundwater) that absorbs chemicals and toxins from the soil. Traces of heavy metals absorbed from the soil may be left behind in a full spectrum product.
However, a lot of people gravitate toward full spectrum CBD because it still contains terpenes and many more compounds, thus it delivers the powerful Entourage Effect.
The other way to produce CBD is in its isolated form. CBD Isolate is pure CBD, and while it has no THC, no heavy metals or other compounds, it also has no terpenes in it and, therefore, loses the Entourage Effect.
Remember what else contains terpenes? Yes – essential oils! We can add them to the CBD to create a synergistic effect and thereby increase the benefits of CBD isolate! Nature's Ultra has done just that!
They have combined organic CBD isolate and terpenes to create an amazing SMART Spectrum CBD product for you.
Natures Ultra Seed to Seal Guarantee
Get it from Young Living so you know you're getting pure CBD with 0.0% THC infused with quality essential oils!
Nature's Ultra is now available directly through your Young Living account AND backed by the SAME Seed to Seal quality commitment.
Plus, these CBD products are the only CBD products on the market with Smart Spectrum™ CBD science. Smart Spectrum blends the CBD isolate and the terpenes from essential oils to make a CBD product that is broader and more robust. The terpenes found in essential oils can also increase the overall efficacy of the product.
What else sets us apart?
All Nature's Ultra products are tested in multiple stages throughout the manufacturing process for potency and purity.
Nature's Ultra CBD is derived from hemp plants grown on their partner farm in Colorado without the use of any pesticides.
All of Nature's Ultra products have been subjected to rigorous laboratory testing to ensure that it contains the optimal amount of CBD and is free of heavy metals.
Harsh chemicals are never used in their manufacturing process thanks to their proprietary extraction methods.
Nature's Ultra is ISO (manufacture of CBD distillate and isolate from industrial hemp) and GMP (Good Manufacturing Practice)-certified.
All of their ingredients are natural, organic, vegan approved, and gluten free.
You do not have to be a member to order the Nature's Ultra products, or anything else from Young Living for that matter. Although getting a wholesale membership does give you the opportunity to save 24% off, which I love!

Nature's Ultra Products
If you already have a Young Living account, hop into your Virtual Office and order it right away! Put it on a One-Time Order and have it shipped right to your house. CBD products will also be available to order on Essential Rewards starting February 1, 2020.
Not a Young Living member yet? Grab yourself a CBD Premium Starter Kit and get a no-strings-attached Young Living membership absolutely free, giving you access to wholesale pricing! Keep reading to see what comes in the CBD starter kits!
Learn more about CBD and how it works – CLICK HERE

Nature's Ultra CBD Drops
Nature's Ultra currently offers three different CBD oil options – Cool Mint, Citrus, and Cinnamon. They are packaged in a convenient dropper bottle for easy use and are available in two strengths: 500 mg and 1000 mg.
Nature's Ultra CBD Muscle Rub
When you use CBD topically in the form of a rub, you can specifically target those sore, achy muscles. CBD Muscle Rub from Nature's Ultra takes the hot-and-cold sensation of menthol and gives it a boost by infusing it with an array of all-natural Young Living essential oils: Camphor, Clove, Helichrysum, Lemon, Peppermint, Tea Tree, Wintergreen, and more. These ingredients work hard together to soothe your hard-working body.
Available in two strengths: 300 mg and 600 mg.

Nature's Ultra CBD Roller
At this time Nature's Ultra offers one roller: Calm Roll-On.
Calm CBD Roll-On from Nature's Ultra creates a peaceful environment that will help relax and quiet your mind. This is perfect for when you're dealing with the stress of the day or trying to wind down for the night. It can help give you a soothing, restful night of sleep.
It is infused with Eucalyptus, Frankincense, Lavender, Orange, Vetiver, & Ylang Ylang Young Living essential oils. It's available in two strengths – 300 mg and 600 mg… crazy day or REALLY crazy day!
You can order any of these products at full retail cost, or get a wholesale membership and save 24% off anything you ever order from Young Living, including these CBD products, makeup, essential oils, household cleaners, supplements, snacks, toothpaste, shampoo, conditioner, laundry soap, and MORE!
Nature's Ultra Discount Code
Nature's Ultra often has special offers and sales that you can take advantage of to save money on their high quality CBD products. I'll update this post whenever I find a new Nature's Ultra discount code.
The Nature's Ultra Starter Kit is by far the very best deal and you don't need a discount code to get this deal!
Nature's Ultra Starter Kit
If you are ready to go all in and get your hands on the no-strings-attached wholesale membership, then this is the best bang for your buck!!
CBD Premium Starter Kits
So what kits are available and what comes in them? There are TWO great options – the Regular Strength CBD Premium Starter Kit and the Extra-Strength Premium Starter Kit.
Our original or regular-strength PSK is a good fit for those new to CBD. With three CBD products (Calm CBD Roll-On 300 mg, CBD Muscle Rub 300 mg, and Citrus CBD Oil 500 mg), this $165 kit offers a variety of ways to experience and incorporate CBD into your lifestyle, including a brochure about getting started with CBD.
The CBD Extra-Strength Premium Starter Kit is a good choice for those with more CBD experience or who prefer a higher CBD milligram content. This PSK contains the same three products but with twice the amount of CBD in each product. The CBD Extra-Strength PSK is $250 and also comes with the 'Getting Started with CBD' brochure.
Remember, state restrictions apply; please educate yourself on CBD-related laws in your state before purchasing.
To order a starter kit, click my personal link here.
Once you order your kit, reach out to me and I will get you connected to our oily community and help you get set up with many other resources to support you on your wellness journey.
Each kit contains a selection of Nature's Ultra favorites—the only CBD products on earth to contain Young Living essential oils and be backed by a Seed to Seal® quality commitment. By combining pure essential oils with 0.0% THC CBD, these introductory collections give you the best that nature has to offer. Get ready to transform your life with botanically based CBD solutions today!
You'll find both kit under the "Other Premium Starter Kits" tab – CLICK HERE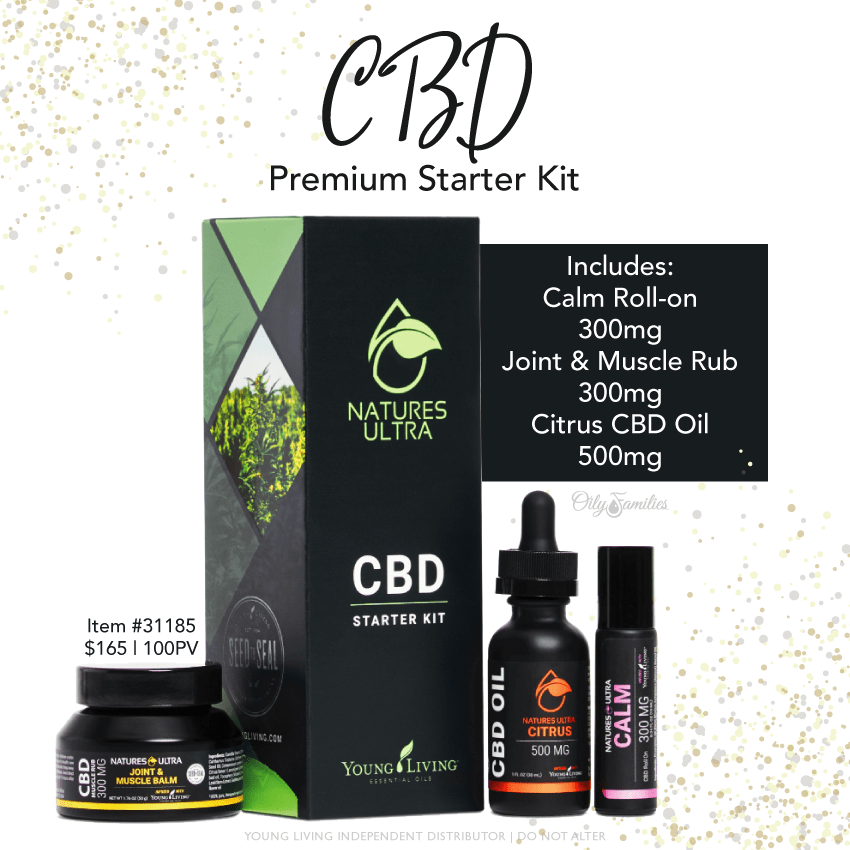 Your CBD Premium Starter Kit includes:
Calm CBD Roll-On
Citrus CBD Oil
CBD Muscle Rub
Getting Started with CBD brochure
Wholesale Membership