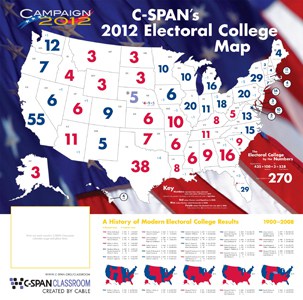 I've shared our plans for creating an fun learning experience using our Election Night Party plan here.
"C-SPAN is delighted to offer our brand new Electoral College Map poster for classrooms. This large 40″ x 40″ wall poster has been updated based on the 2010 census and includes information about the Electoral College, historical election results, and key dates leading up to the 2012 presidential election that can jumpstart a variety of lessons and fit a wide range of subject matters and grade levels."
You'll need to grab this FREE Electorial Map and this list of map questions and activities as well as any of the following Presidential Election Day Freebies:
Register for a National Mock Election
You'll also find a ton of great resources that my friend Melissa has pulled together here.  This should be enough to get you started on your own election journey.  It is important that we teach our kids what an amazing right we have in participating in the election process!