I love this time of year for color changing trees, apple cider, fires roasting, early nights, and the fashion!  I love wearing leggings and big shirts or dresses.  It has become my favorite look when paired with a cute pair of boots.  In fact the boots I shared last Friday arrived yesterday and you know I am wearing my favorite black leggings and oversized blouse with them today.
If you are like me you might need to restock your legging supply.  I am looking to add a few new colors to my closet including blue, grey, and yellow and I have found a deal to get them for just $4.50 a pair!  This is the perfect time to add some more leggings to your fall wardrobe.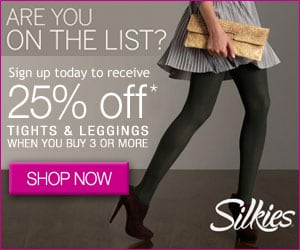 Just sign up to be a Silkies Insider and you'll get 25% off when you purchase 3 or more Silkies.  You can also get FREE shipping on all orders over $40.
There are several leggings on sale for just $6 a pair, with SO colors to choose from including Black, Blue, Yellow, Grey, and Pink just to name a few!  Once you apply the coupon code they'll cost just $4.50 a pair!  Shop early for the best color and size collection.
Thanks Frugal Coupon Living!