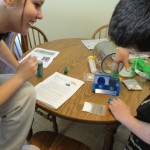 Since we are a homeschooling family that is always looking for ways to break up the monotony of everyday schooling, I was thrilled to be able to offer this Leprechaun Science Kit from Steve Spangler Science to my son yesterday.
I knew he would totally be into it, and I was right.
What surprised me was that my sixteen-year-old daughter was into it just as much as my twelve-year-old son, and possibly even more. My son opened the cool paint can that everything came neatly packaged in and started looking through everything.
Here's what is included in the kit:
55 Color-Changing UV Beads
Green Leprechaun Snow
Jelly Marbles (15 grams)
Pipe Cleaners
Worm Goo (120 mL)
Green Leprechaun Bags (2)
Worm activator (12 grams)
True Color Tablets (100 pack)
Rainbow Glasses
Measuring Scoops and Plastic Cups
Clear Gallon-Size Bucket
Activity Guide (8 pages packed with science content and St. Patrick's Day fun)
Here's a list of some of the activities:
Make Leprechaun green snow
Fish with appearing green worms
Uncover hidden rainbows
Turn white flowers green using Leprechaun test tubes
Make a color-changing Leprechaun bracelet
Grow Leprechaun eggs that vanish and reappear like magic
Learn how to inflate a giant Leprechaun sandwich bag with one breath
My daughter saw the magic color changing beads, and immediately laid claim to them. My son was all too willing to oblige her.
The first thing he wanted to try was the giant Leprechaun sandwich bag experiment, which required 2 people. So he asked his sister to help him. That was when she got hooked, but she didn't even know it yet.
After that experiment, Richie decided it was time to check out the green worms (of course!).
These were the neatest things, and I had to "make them" take turns with it because they both wanted to make worms and leprechaun eggs.
Then they moved on the making green leprechaun snow. This kept them occupied for about an hour! I know that is not the most important thing, they were learning valuable science stuff.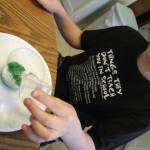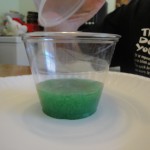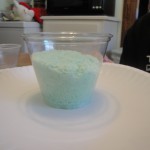 But at my house, when my sixteen-year-old daughter and my twelve-year-old son are hanging out together and having a blast it IS pretty important!
I can't think of a better way to spend St. Patrick's Day with your kids than by turning them loose on this Leprechaun Science Kit.