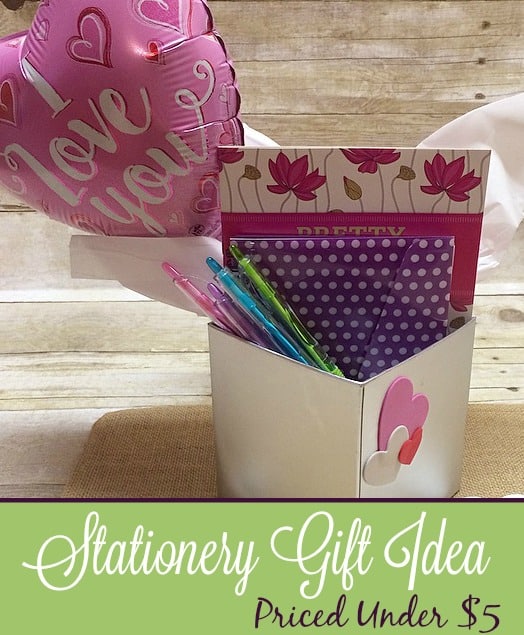 If you are looking for an inexpensive gift idea, I highly suggest your local Dollar Store for some really great inspiration!
You can easily put together a custom Stationery Valentine's Day Gift Under $5 using items you've hand-selected for the one you love.
The items in the picture were all found at the Dollar Store for $1 each. I have linked to similar items on Amazon just so that you can see the price comparison.
OFFICE GIFT SUPPLIES
1 – Gift Box

1 – Pack of Gel Pens

1 – Floral Sudoku Puzzle Book

1 – Small Notebook

1 – Valentine's Day Balloon
INSTRUCTIONS:
Remove labels and packaging from all items and place them in the gift box.
Cut down the stick of balloon if necessary to fit nicely in the box.
Fill around with tissue paper.
Add a few stickers or embellishments to the gift box if desired.
Consider leaving a small love note in the notebook for your Valentine to find.
More Valentine's Day Gifts Under $5:
Chocolate Lover's Valentine's Day Gift