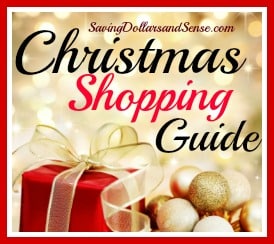 I wanted to take a minute to let you know about the Saving Dollars and Sense Christmas Shopping Gift Guide that I have put together for you.  I am sharing all of my shopping secrets with you so that we can all save big this year.  So before you do any of you shopping this year makes sure you check with the Christmas Shopping Guide first for everything you need to be a master saver!
Find the Christmas Shopping Guide here.
If you look at the top right corner of this site you will see the Christmas Shopping Guide graphic that looks like the one in this post. You can also get to the Chrsitmas Shopping Guide anytime by clicking on that picture.