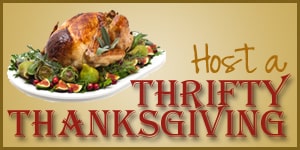 I want to encourage you that is is very possible to host a Thrifty Thanksgiving without sacrificing taste or variety. Have a well thought out plan and you should be able to get through this without overspending.
The one thing I look forward to every single year is Candied Yams! In fact everyone loves this dish so much that it is always the first thing we run out of. I'm pretty sure that because it is called candied yams, even kids will eat it!
Here's a really easy and frugal recipe.
Candied Yams
Ingredients
4 cups chopped sweet potato or 1 large can of yams
1/8 cup brown sugar
1/2 cup butter
1 cup miniature marshmallows
Directions
Preheat oven to 325 degrees F (165 degrees C).
Place sweet potatoes in an 8×8 inch square baking dish. Sprinkle with sugar and butter.
Bake in preheated oven 30 minutes, until potatoes are tender and mixture is bubbly. Remove from oven and sprinkle marshmallows evenly over potatoes. Return to oven until marshmallows are melted and browned.
My mouth is watering thinking about this dish and I know I still need to wait 8 more days before I can taste some!
Find more Thrifty Thanksgiving Recipes from these other great sites
Or checkout more of my Thrifty Thanksgiving Recipes.