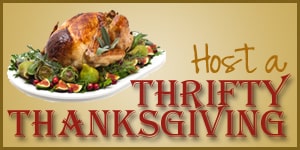 Once you have decided the right budget for your Thanksgiving dinner you are ready to move on to the planning stage!
I shared in my Thrifty Thanksgiving Tips post that a well rounded Thanksgiving meal should include a Turkey, one potato dish, stuffing, one other vegetable, a salad, and a dessert.
Of course you can adjust this to your families liking.
Today I will share a budget friendly potato recipe to get you started.
You can't go wrong with a great mashed potato dish on Thanksgiving!
Easy Mashed Potatoes
Ingredients
2-3 pounds Russet cut into chunks
1/4 cup milk (add more or less to taste)
1 stick of butter
3/4 teaspoon salt (add more or less to taste)
1/4 teaspoon freshly ground black pepper
3/4 teaspoon of garlic powder (add more or less to taste)
Place potatoes in a 4-quart pan and bring to a boil over medium heat.
Reduce heat to low, cover, and simmer for 20 minutes, or until potatoes are tender.
Drain potatoes thoroughly.
Transfer to a large bowl. Add remaining ingredients to the bowl.
With an electric hand-held mixer, beat potato mixture until light and creamy.
This Mashed potato recipe serves 4 to 6.Double the recipe depending on the number of guests you are expecting.
Time Saving Tip
Make these potatoes earlier in the day and keep them in a crockpot on warm.
Find more Thrifty Thanksgiving Recipes from these other great sites
Or checkout more of my Thrifty Thanksgiving Recipes.