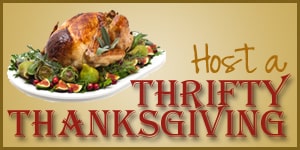 Thanksgiving is a time to think about family, friends, and the things that matter most to us! It shouldn't be a time where we are worrying over money. It's possible to put together a fantastic spread without over spending.
Thanksgiving is only a little over a week away and I wanted to share some ways that you can create an amazing Thanksgiving Dinner without spending a small fortune and using some basic ingredients that you may already have on hand.
It can be very easy to get caught up in the moment and find your budget has been busted. I'm here to say that you can put together an excellent spread and still maintain a budget.
The first step is to determine a budget for your special dinner and then stick to it!
This will be different for everyone because you'll need to take into consideration how many guests you will need to accommodate.
Keep in mind that the cost of the turkey should be about 40% of your budget.
The American Farm Bureau Association found that the average cost of a Thanksgiving meal in 2008 for 10 people was $44.61, about $4.50 per person. Although I'm sure we can do it for less than that if we try.
Also keep in mind while planning this meal that you do not need to make every single dish!
A well rounded Thanksgiving meal should include the turkey, one potato dish, stuffing, one other vegetable, a salad, and a dessert.
You can asks guests to bring dishes to add if they want something that isn't included in your plan.
There are many great deals to be found on turkeys this week so make sure you check your stores sales and find one that meets your families need while staying within your budget.
Once you have a turkey you need to add all the extras to the meal that make this dinner a feast!
Each afternoon, for the next week I will share a new Thrifty Thanksgiving recipe to help you put together a great spread without the guilt of knowing you have overspent.
I'll also be linking to some other great blogs and the Thrifty Thanksgiving recipes they'll be sharing!