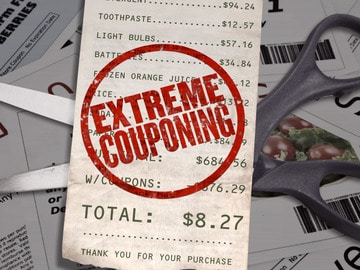 I just have a couple of thoughts that I'd like to share before TLC airs it's new series Extreme Couponing.
I watched the first episode that aired a couple months back with excitement that others would know what couponing was really all about. But that didn't last very long and soon I was filled with sadness. What I saw before me were not frugal parents who had used their savvy to navigate rough economic times.
I saw sad, empty people who had become hoarders and filled their lives and homes with stuff. In fact I shared a lot about how I felt when that first show aired. I was embarrassed to see how couponing was being portrayed.
I have learned the ins and outs of couponing, NOT because I liked the feeling it gave me to get free stuff but because I loved the feeling of knowing that we did not need to be controlled by money once we learned how to live on less without losing the abundance of life!
It pleases me to be able to give because I have a little extra.
And since the show I have come to realize that couponing was not shown in the best light. I was able to share an interview with Nathan Engles from the first episode and if helped to shed some light on what appeared to most as a terrible case of hoarding and abusing coupons.
It is my hope that TLC has learned from their mistakes and will show a realistic portrayal of couponing and the good that the Extreme Couponers are able to do by shopping with coupons.
I will be sharing a 15 week course on how to become an Extreme Couponer!