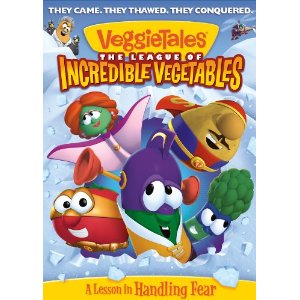 I am giving away a copy of the new VeggieTales DVD The League of Incredible Vegetables, so be sure to read all the way through to the bottom of this post to find out how you can enter to win!
The VeggieTales DVD Sale is still happening here if you are looking for some inexpensive gifts this is a great time to shop!
Plus check out all the VeggieTales FREEBIES below:
Enjoy a free download of an entire Adventures in Odyssey® episode, "Afraid, Not!"
FREE Raising Incredible Kids Guide:
• VeggieTales® "The League of Incredible Vegetables" Parent Discussion Guide
• Super Activity by PluggedIn.com
• VeggieTales® Super Hero Cards
FREE Devotionals from Thriving Family® magazine
• Jesus Frees You From Fear
• God Gives Me Strength
VeggieTales: The League of Incredible Vegetables, was released on October 16! The title helps teach a lifelong lesson in handling fear, one of the most requested subject topics by VeggieTales fans and families, and includes a brand-new League theme song and music video by Grammy-nominated and Dove Award-winning group, Newsboys.
VeggieTales: The League of Incredible Vegetables is the fourth title in a series of DVD releases that stars the popular "LarryBoy" character. The DVD also introduces four new superheroes played by beloved VeggieTales characters Bob the Tomato, Petunia Rhubarb, Junior Asparagus and Mr. Lunt, all with hilarious superhero abilities. In addition to engaging bonus features, the DVD contains fun music fit for families, and an all-new Silly Song, "Supper Hero."
DVD Synopsis
It was a bright and sunny day in Bumblyburg until Dr. Flurry came to town. This chillin' villain wants to freeze the entire city in fear! This job is too big for LarryBoy to handle alone, so he turns to "The League of Incredible Vegetables" for help! Thingamabob (Bob the Tomato), S-Cape (Mr. Lunt), Vogue (Petunia Rhubarb) and Ricochet (Junior Asparagus) are up for the task, but find that their own fears could land them in Dr. Flurry's deep freeze!  Will they remember to turn to the One who is bigger than all their fears before the whole town ends up on ice?  Find out in this heroic new VeggieTales episode with a lesson in handling fear!
And don't forget that one lucky Saving Dollars and Sense reader will be able to take home a FREE VeggieTales The League of Incredible Vegetables DVD!
Here's how to enter:
Leave me a comment telling me why you love VeggieTales.
This giveaway is open to all legal residents of the US age 18 and older and will end on November 5th.
**Although the product for this giveaway was supplied to me free of charge from , all opinions expressed are solely mine.