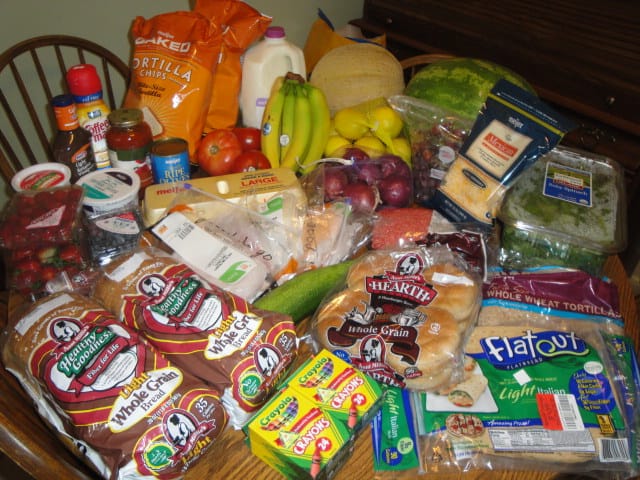 We extended our vacation by several days and when we returned we were in desperate need of food in the house!
So I made the mistake of running into Meijer with my husband to pick up just a few essentials to get us through the week. I paid no attention to what was in the sale paper, and I didn't bring one single coupon!
Unfortunately I do know better than this, and as you see I went over my planned $50 budget. However we are still good for the month so I will get right back on the wagon this upcoming week!
~ Meijer ~
4 Boxes of Crayola Crayons
Bananas
Tomatoes
Zucchini
1 Dozen Eggs
1 Bag of Red Onions
1/2 lb of Deli Ham
1 Gallon Skim Milk
1/2 lb Colby Cheese
1/2 lb Bologna
1 Bag of Lemons
1/2 lb of Pepperjack Cheese
1 Package of Hamburger
1 Bottle Coffeemate Creamer
1 Container Organic Baby Spinach
1 lb Healthy Ones Turkey Breast
1 Bag of Red Grapes
1 Package of Whole Grain Tortillas
1 Container of Sour Cream
1 Bottle of Kraft Dressing
2 Loaves Aunt Millie Whole Grain
2 Bags of Baked Tortilla Chips
1 Container of Cottage Cheese
1 Container of Raspberries
1 Container of Strawberries
1 Seedless Watermelon
1 HoneyRock
1 Container of Blueberries
1 Package of Whole Grain Hamburger Buns
1 Package of Shredded Cheese
1 Can of Black Olives
1 Jar of Pasta Sauce
2 Packages of Flat Out
TOTAL $83.33
Total Savings $22.36
Next week begins a whole new month and a whole new budget!