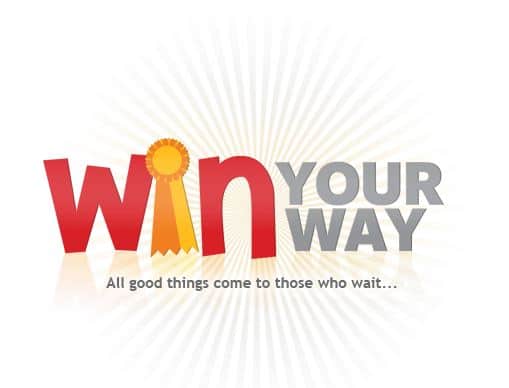 Sears ShopYourWay has a neat new portal available that I know many of you will love called Win Your Way where you'll be able to win lots of great prizes!
If you are new to ShopYourWay.com then this is the perfect time to take it for a test run and see why I like it so much.
When I logged into my account today I saw that there were 79 active sweepstakes available for me to enter!  I know we have a lot of people in the Saving Dollars and Sense community that love to enter giveaways so I knew you would love to know about Win Your Way.  Some of the sweepstakes that were available to me only had 7 hours left on them, so I'm hoping I'll hear back soon that I have won.  Other sweepstakes have as many as several days before they end and the prizes are just as varied!
I saw everything from birthstone bracelets, dream vacations in the sun, and stainless steel ranges.  Plus entering is so easy.  The only negative I could see is that I spent far too much time this evening entering contests when I should have been preparing dinner, but if I win I don't think my family will complain too much.
My husband will love if I win the Craftsman sweepstakes and I'd love to win the eReader one for myself!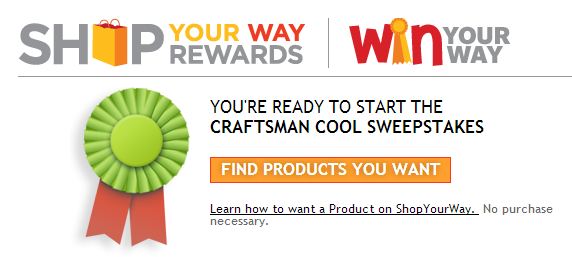 I really think this is a great way to be able to get some free Christmas shopping done with Sears!
"Win Your Way is an app that is part of the ShopYourWay social shopping platform. Members will find a constant stream of new and unique sweepstakes with prizes including: ShopYourWay Rewards points, trips to locations around the country, jewelry, clothing, appliances, tools, and gadgets."
In order to participate in Win Your Way, you'll need to sign up for a free account with ShopYourWay.com if you don't already have one.  It's easy to do and only take s a couple minutes.
Once you have an account you can log in to the Win Your Way portal here and pick and choose the sweepstakes you'd like to win and enter.  I love that all of the contests are listed in one spot and they really have a huge variety of prizes available so there is definitely going to be something for everyone.
In order to enter most of the giveaways you simply share your opinions about a product or choose items you'd like to buy.  There is no purchase necessary. You can see http://bit.ly/RdfB8K for all the details. Head on over and be prepared to spend some time while you are there, these are really good contests and I personally would love to win most of them except maybe the baby or bridal ones 😉
**This is a sponsored post with Brandfluential, I am a Win Your Way blogger, though all opinions are my own.