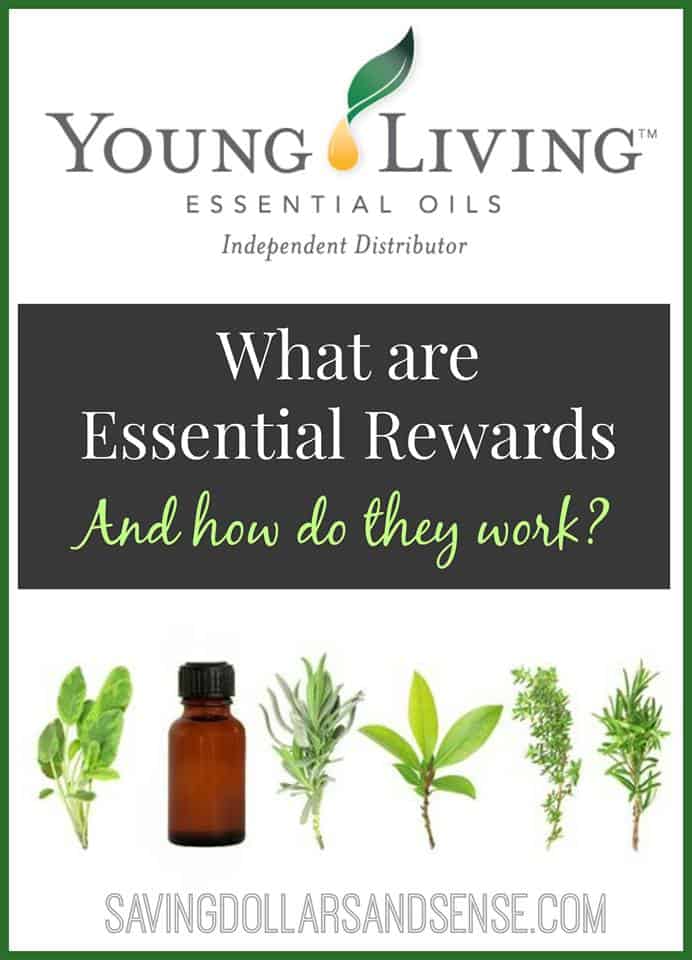 When you sign up for Young Living Essential Oils you are given an opportunity to also sign up for Essential Rewards.
If you have a wholesale/distributor account with Young Living, then I am so excited to tell you all about how I earn a percentage of the money I spend each month on my oil purchases back by joining the free Young Living Essential Rewards program.
When you signed up as a wholesale/distributor, you automatically qualify for the 24% wholesale/distributor discount on essential oils. There's nothing that you have to do except sign up as a distributor and make at least $50 worth of purchases per year to continue getting the discount.
When I realized I could save 24% AND earn back 10% – 20% of my order back in credit towards other Young Living products, I knew it just made sense to sign up for Essential Rewards!
Also, if you want to share about Young Living oils with others then it definitely makes sense to sign up for Essential Rewards after your initial sign-up process.
I would recommend starting out with the $50 per month ER order so that all you need is to enroll 1 person per month to pay for your oils. Then once you have a few people who are also ordering each month you can increase your order to the $100 per month when it makes sense financially to do so (once you spend $100 per month then you can start getting commissions on what others order).
The two main benefits of Essential Rewards are:
(1) You get Young Living credit for every order you make through Essential Rewards.
Months 1 – 6: You get 10% of your order total back in credit
Months 7-12: You get 15% of your order total back in credit
After 12 months: You get 20% of your order total back in credit
(2) You also have to order a minimum amount per month to get commission checks and enrollment bonuses for those that sign up through you. It makes sense to be on Essential Rewards for this since you will also get the % credit back for your orders.
(2a) If you spend at least $50 per month in Point Value (PV – most items have the same PV as the price of the product) then you will get a $53 check for each person that you enroll that month.
(2b) If you spend at least $100 per month in Point Value then you can get a $53 check for each person that you enroll that month AND you'll get commissions off of what those people buy each month.
Your enrollment kit counts as your $100 Point Value order for the month that you enroll, so you would want to start your Essential Rewards order for the month after you sign-up.
You can change the date of your Essential Rewards order at any time (I started off at the 2nd of the month when I signed up and ended up moving later in the month to the 23rd because it works out better that way for my budget) and you can change what products are in your order each month.
I hope that helps! Please let me know if you have any questions!!
Find more Young Living Frequently Asked Questions here.