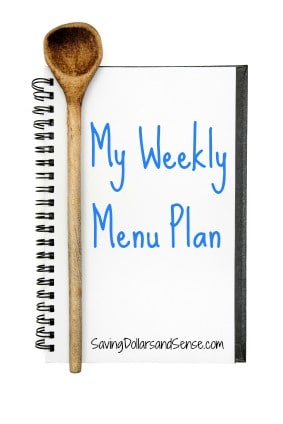 I made Roast on Monday and plan to use the leftovers to make a Beef Stew on Tuesday.
How often do you repurpose leftovers to make a new dinner?
This is a great way to save on dinner. Plus if you have picky eaters that refuse to eat leftovers you can still get them to at them if you're a little resourceful.
Now on to this week's menu plan.
Breakfast and lunch are pretty much the same around my house which is why that part of the menu never changes.
Breakfasts – consists of oatmeal, cold cereal, fruit smoothies, toast & poached eggs.
Lunches – consists of soups, peanut butter or tuna sandwiches, and dinner leftovers.
Dinners – I will try to include lots of veggies this week.
~ Monday ~
Crockpot Roast, Potatoes and Carrots
~ Tuesday ~
Beef Stew and Noodles
~ Wednesday ~
Baked Fish, Broccoli and Herbed Potatoes
~ Thursday ~
Parmesan Chicken and Spaghetti Squash
~ Friday ~
Pizza
~ Saturday ~
Homemade Chicken Pot Pie
~ Sunday ~
Usually, we have a very late lunch and just find something small for dinner. Either way, I don't plan because I like to be flexible for anything that pops up.