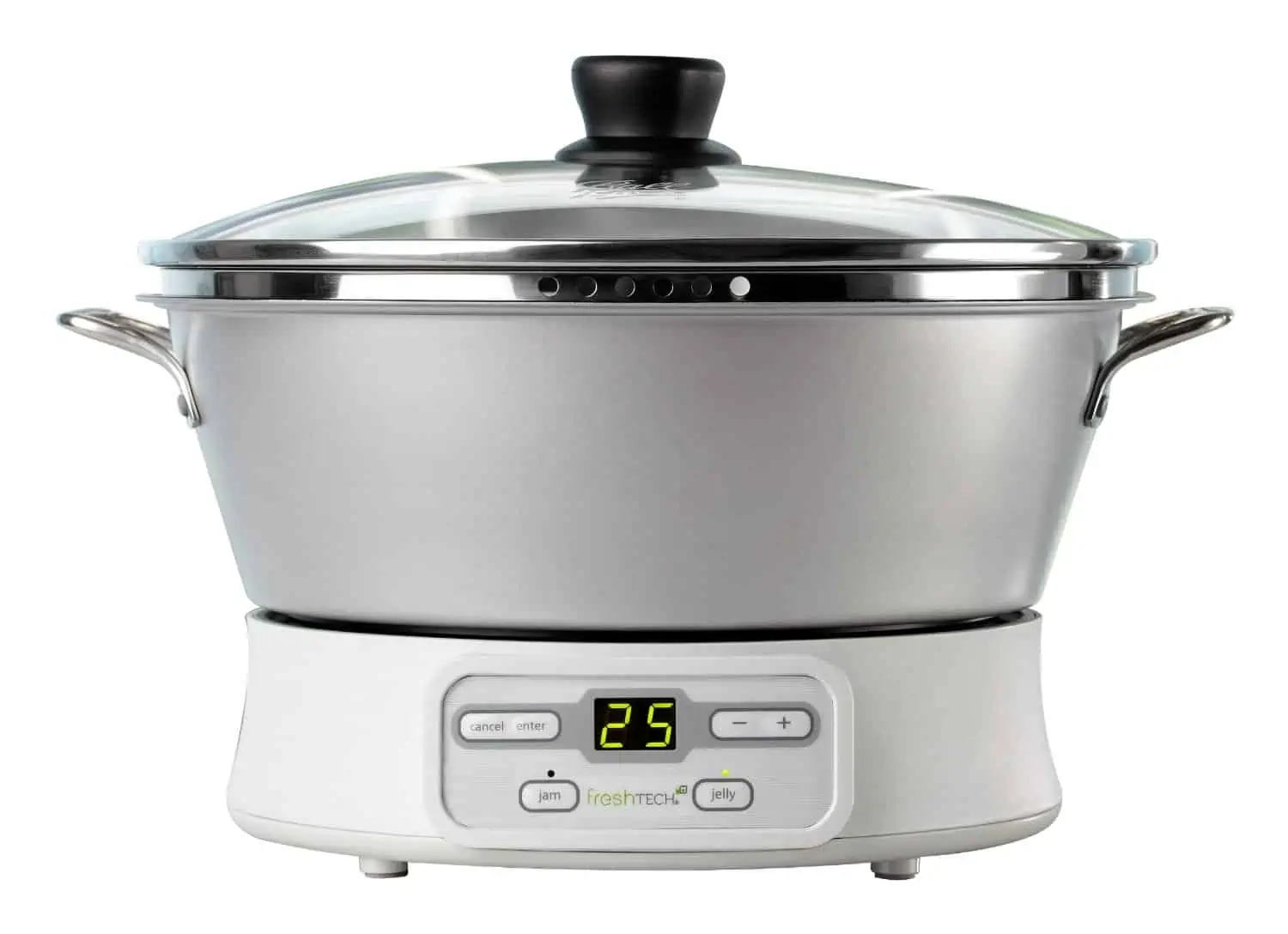 Before you start canning, make sure to read this article on Easy Ways to Get Started Canning.
I shared an awesome Strawberry Jam Recipe for Canning that you could definitely use along with this Ball Automatic Jam and Jelly Maker.
If you love your bread maker and rice cooker, you're going to love the Ball automatic jam and jelly maker.
It's one of those nifty little appliances that can save you a lot of time and effort. If on the other hand, you're the kind of person that would rather knead bread by hand, and uses the stovetop instead of a slow cooker to make soups and stews, this may not be the best choice for you.
What this handy little electric appliance does for you is heat, stir, and cook a batch of homemade jelly or jam on auto pilot.
You add the ingredients, turn it on and come back to yummy jam ready to pour into canning jars. From there, you can process the jars in a hot water canner, freeze the finished fruit preserves, or of course start eating it.
If you find yourself making a good bit of homemade jelly and jam throughout the year, this would make a great addition to your kitchen.
If you end up making one or two small batches per year, it is probably overkill. Where this will come in very handy is for anyone that loves making homemade jelly, but has a hard time standing at the stove stirring posts for long periods of time.
It would make a great gift for an elder family member or someone suffering from tendonitis, or arthritis for example.
While this is marketed as a jam and jelly maker, it is actually a lot more versatile than that.
When you break it down, it's an electric cooker with built in stirring paddles. When you look at it that way, it opens up all sorts of cooking possibility.
Use it to make spaghetti sauce, small batches of soup, or any type of sauce that involves a lot of cooking and stirring. It's great for tomato sauce, barbecue sauce and the likes.
The Ball Automatic Jam and Jelly Maker is a small appliance that won't take up any more room than your slow cooker on the kitchen counter.
It's also pretty light-weight, making it easy to move it from the cabinet to the counter and back.
What I love best about it, is that it allows anyone to make small batches of jam and jelly throughout the year whenever there's extra fruit sitting on the counter.
No matter how busy you are, you can turn on this jelly maker and have it take care of the cooking and stirring for you. No excuse to not have fresh homemade jam on the breakfast table.
Try this Strawberry Jam Recipe for Canning.
More Food Preservation Reviews