This Journey Girls 2015 Italy Holiday Doll Review is part of the new 2015 Hottest Toys series that I will be sharing here on Saving Dollars and Sense that will highlight each of the hottest toys for the 2015 holiday toy season.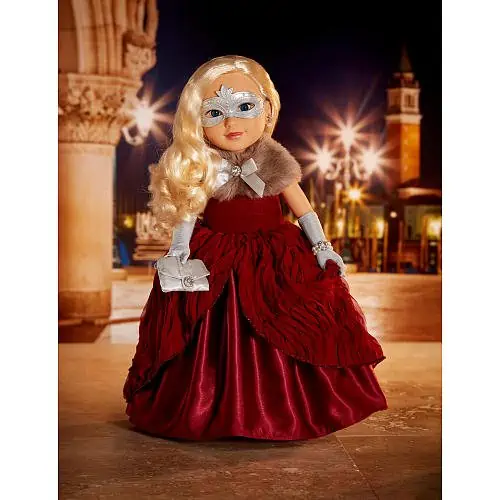 Each year we wait to see which toys will make it onto the Toys R Us Toy List so that we will know which toys your kiddos will be asking for and which toys will be in high demand. For the next couple of weeks, I will choose one new toy from the list to share with you so you can be an informed shopper this year.

Journey Girls 2015 Italy Holiday Doll Review
Introducing beautiful Giovanna! With her dark blue eyes, soft blonde hair, and stunning ball gown, she's bound to captivate the imagination of little girls and doll collectors alike. Complementing the rest of the other collections, this newest 2015 Italy Holiday Doll is yet another winner from the Journey Girls Line.
Features of the Journey Girls 2015 Italy Holiday Doll
Giovanna is dressed and ready for a Venetian masquerade ball. She's also the first of the Journey Girls dolls to have her ears pierced with little drop earrings. How cheeky!
An elegant layered gown with a choker neckline adorns her svelte body, and being shy, Giovanna opts for an intricate Venetian mask to take to the ball. Elegant satin gloves adorn her slim hands, and a dainty clutch wristlet purse, faux fur shrug, matching bracelet and drop earrings, and sweet ballet flats complete her look.
Is the Journey Girls 2015 Italy Holiday Doll Worth Buying?
Buyers who have reviewed this doll said that they were impressed with the quality, excellent tailoring, and attention to detail. Giovanna's captivating appearance and detailed accessories have proven to be very popular and a slight awkwardness in her joints and posing are the only drawbacks.
Pros
No expense has been spared in creating a realistic and elegant ball gown. The three layers shimmer and wave as the doll sashays into the ballroom. She's truly dressed to impress! Each accessory (even the earrings) can be removed after a long night of dancing and fanning off potential suitors.
Even young owners of the doll seem to appreciate the doll's beauty and quality. Parents who have bought Giovanna for their little girls commented that the kids took special care of the doll's hair, dress, and accessories. This is a great toy to teach children how they should take care of things!
The doll's soft, blonde, and gently curled hair is realistic. Her face is also sweet and kind.
Giovanna inspires hours of imaginative and social play. Little girls can now dream up exciting stories about Giovanna's adventures in the most beautiful parts of the world.
The doll complements other dolls and accessories in the Journey Girls collection. Giovanna looks beautiful alongside her gorgeous best friends Mikaella and Jordanna (sold separately).
Cons
Some reviewers commented that Giovanna's joints are stiff and that her legs spread too wide when you sit her down (not very ladylike!). She's best-posed standing or sitting on a chair.
Some collectors did not like Giovanna's shoes. She wears the same shoes as the other Journey Girls dolls, which seems rather out of place when you consider Giovanna's elegant gown and high-society look. However, Giovanna's shoes remain hidden beneath the hem of her gown. So, the overall look isn't compromised too much.
Conclusion
Giovanna, the Journey Girls 2015 Italy Holiday doll, is a beautiful addition to any doll collection. Her elegant gown, intricate accessories and fine features inspire dreams of a sophisticated Italian holiday.