Berkey Water Filter
If you are looking for a water filter that can uses no electricity and can offer you safe and clean drinking water anywhere, anytime…using ANY water, then the Berkey is my first choice!
Check out this free water tester to see if Berkey would be a good choice for you!
The Berkey Water Filteration System is able to remove the following Contaminants from water:
Viruses
Pathogenic Bacteria
Trihalomethanes
Inorganic Minerals
Heavy Metals
Micro-Organisms
Pharmaceutical Drug Contaminants
Also removes or reduces:
Arsenic; E. Coli; Fluorene; Manganese; MBAS; Nitrites; PCB s; Petroleum Products (Gasoline, Diesel, Crude Oil, Kerosene, Mineral Spirits, Refined Oil; Selenium; Thallium; Rust; Silt; Sediment; Turbidity; Foul Tastes and Odors.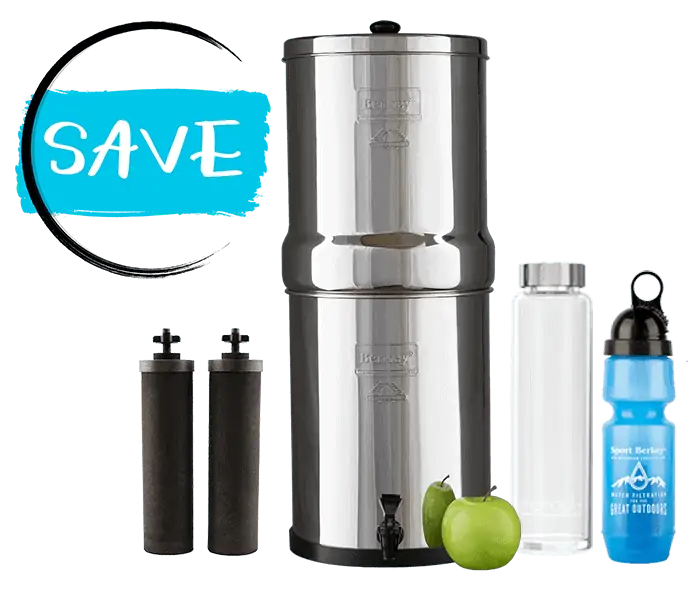 I had been dreaming of a Berkey Water Filter System for several years, but kept putting it off because of sticker shock.
Boy, was that a bad move on my part!
I finally got mine, after Rich and I were talking about how much money we have spent on filtered water, ever since we moved into our new house. We moved from the city to an area that has well water that is so full of iron that it stains everything yellow if it weren't for our water softener.
But the softener doesn't help with filtration, so we had been buying those big water jugs and using a water cooler for almost ten years.
It costs around $13 for two big jugs and we need about 2 – 4 jugs a week. When we did the math, it came out to around $10,000!!!
The Berkey is a steal when you consider how much we've already spent just for clean water.

Berkey Water Filter Review
We went with the Big Berkey System which holds 2 1/2 gallons of water, and works were for the two of us, and our animals.
I've been using my Berkey Water Filter for almost two years now and can honestly say it has been one of our best decisions ever.
The only other thing I have had to buy since getting my Berkey, was this stainless steel stand.
I was trying to save money, so I skipped it when I first placed my order, but several of you kept telling me how I was missing out by not having the stand…and you were 100% right!
It's been almost two years now and I figure at between $26 – $52 a week that we were spending for clean water before, I've saved between $2700 – $5400!!
Big Berkey Water Filter
You can learn all about what makes this water filtration system the best – Click Here
Please note, Berkey has not paid for my opinion of their product. Any thoughts or opinions on the Berkey system are totally my own, based on experience. We honestly love this system and know you will too.